Finding the right hair care treatment for you
Dry or greasy, damaged or coloured… Hair has varying needs depending on hair type, your habits and the time of year. Therefore, it is essential to know what your hair's needs are and to meet them as its condition changes to keep it looking good. Read on to find out which treatments are perfect for your hair type!
Dry hair treatments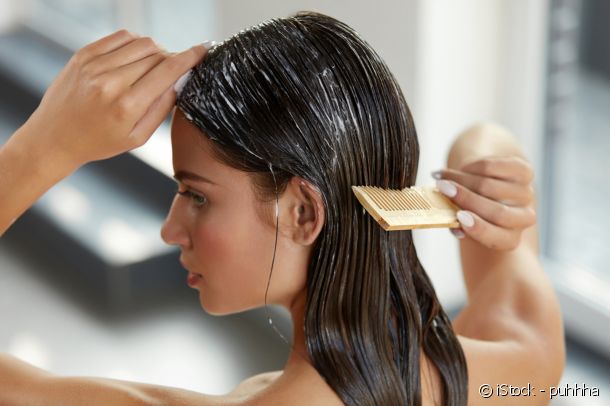 What's the problem? It's a well-known fact that when your hair feels rough from the roots down to the tips, it requires constant hydration.
The solution! To meet your hair's needs, start your hair regime off with a hydrating shampoo-conditioner duo. Continue by applying a regenerating mask. To complement this, get into the habit of applying a hydrating leave-in treatment to your locks just after washing (and apply touch-ups throughout the day if required) to continuously hydrate your hair and to protect it against damage, so that it doesn't dry out any further.
An additional tip. Avoid formulations containing silicone as, although it makes your hair softer on the surface, it will not deeply hydrate your locks.
Beauty products to add to your shopping basket. The shampoo and conditioner from Jean Louis David's Hydrate Me! range, with Brazil nut oil, give your locks a hydration boost. Finish off the regime with the Repair and Radiance Mask from the Oil Therapy range. Packed with active ingredients, it deeply rehydrates the hair fibre to repair it long-term so you can say goodbye to that unsightly straw-like look.
Greasy hair treatments
What's the problem? Your roots tend to get an unsightly 'glistening' look as your hair produces excess sebum.
The solution! So as not to aggravate the problem, steer clear of products which are overly nourishing and of formulations high in silicone which, by overloading the hair fibre, encourage the build-up of sebum at the roots and make your hair quick to go greasy. Instead, opt for shampoos and treatments with purifying, softening and astringent properties which deeply but gently cleanse your locks!
An additional tip. Using a scalp scrub once a week is also a great idea for purifying your roots, but do not overuse this treatment as it might stimulate your sebaceous glands too much.
Beauty products to add to your shopping basket. The Jean Louis David ranges GO DETOX, formulated from plant charcoal, and the Detox Me! range, with its silicone-free tea tree oil formulation, are perfect for regulating sebum secretion. When used alternately with mild, hydrating and light formulations, which provide additional care for your hair without making it greasier, they help to keep your scalp well-balanced.
Combination hair treatments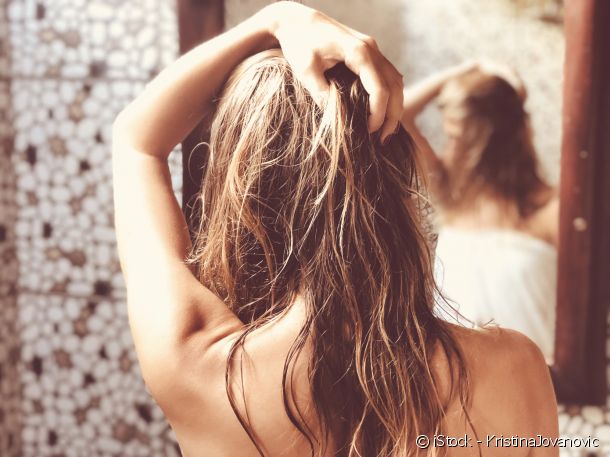 What's the problem? You have a combination of greasy roots and locks that are dry and straw-like.
The solution! To restore your hair's balance, you need to use two targeted treatments which will work in conjunction with one another. Opt for an astringent shampoo to treat the excess sebum at the roots and apply an ultra-rich mask from the mid-lengths down to the tips to deeply rehydrate your dry locks.
An additional tip. If you are in a hurry, opt for a 2-in-1 treatment specifically formulated for combination hair which will treat the roots and lengths in one hit.
Beauty products to add to your shopping basket. Jean Louis David's Control Therapy shampoo whose formulation combines a purifying plant complex to regulate sebum production with keratin to deeply nourish and hydrate your locks.
Coloured hair treatments
What's the problem? Your hair has been overprocessed by a series of colouring treatments so your hair's fibre is weakened and your colour tends to fade as a result. You need both repair and colour protect treatments.
The solution! It is quite simple: all you need is a shampoo and mask specifically formulated for coloured hair to meet all of its needs! Besides hydrating ingredients, these targeted treatments contain key active ingredients such as antioxidants and vitamins to protect your colour from external damage, so it stays as intense and vibrant as the first day it was put in. So it's very important to use these treatments if you are a fan of colouring your locks.
An additional tip. To revive hair colour which has faded despite taking precautionary measures, consider using Jean Louis David's colour enhancer treatments. High in nourishing pigments, they boost your highlights for vibrant colour!
Beauty products to add to your shopping basket. Jean Louis David's Color Therapy range, a comprehensive range whose exclusive formulation, the Color Stay Complex, bonds the colour to the hair fibre. This helps to preserve your hair's shine and to prevent the colour from altering or becoming dull over time.
Damaged hair treatments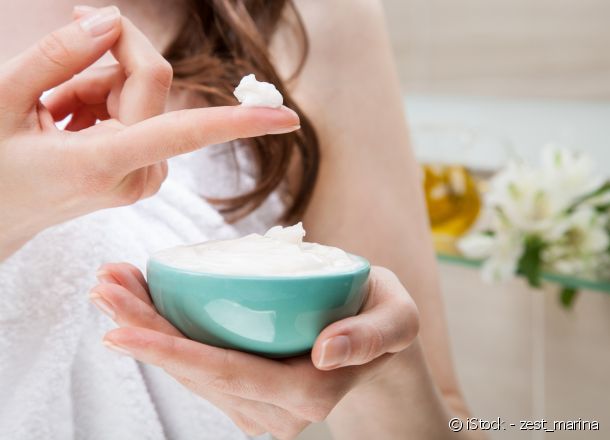 What's the problem? Your hair breaks easily when brushed, it is dry and dull. Your distressed hair needs lots of treatments high in nourishing active ingredients, to restore it to its beautiful healthy self.
The solution! To meet all the needs of your super-dry brittle hair, use heavy duty treatments high in proteins and antioxidants, which will help to restructure the hair from the roots down to the tips, strengthening your locks long term. These products provide the ultimate repair treatment, similar to those containing keratin, the hair's natural protein, which is in a class of its own when it comes to reviving your damaged hair in the blink of an eye.
An additional tip. If split ends have already started appearing at the tips, get them cut as quickly as possible as they will not go away by themselves and can end up damaging the rest of your hair.
Beauty products to add to your shopping basket. The GO REPAIR range, with caviar extract, and Jean Louis David's Repair me! range, with coconut oil, deeply repair and hydrate the hair fibre to make your locks more resilient.
Porous hair treatments
What's the problem? As rough and as brittle as dry, damaged hair, porous locks have the misfortune of not being receptive to many treatments. Why? The cuticles which are meant to form the hair's protective barrier are so 'raised' that the hair absorbs humidity but does not retain moisture.
The solution! The ideal plan for getting back beautiful-looking locks? A bespoke regime which starts with a gentle wash using a daily-use shampoo to pamper the distressed hair fibre whilst ridding it of impurities. It is also great to use a heavy duty treatment, such as a mask high in keratin: an unrivalled essential active ingredient for filling gaps in the hair fibre. In order for this perfect duo of treatments to have the desired effect, do not forget to coat your locks in a plant-based oil to lock in moisture and smooth down the cuticles. This helps restore the hair fibre's protective film and it ensures that your hair fully benefits from any treatments applied.
An additional tip. Give your locks regular oil soaks, that yield effective results fast.
Beauty products to add to your shopping basket. Nutrition and Luminosity Oil from Jean Louis David is just what you need. Applied as a finishing touch to your regime or as an oil soak, it strengthens your hair perfectly.
White, grey and blonde hair treatments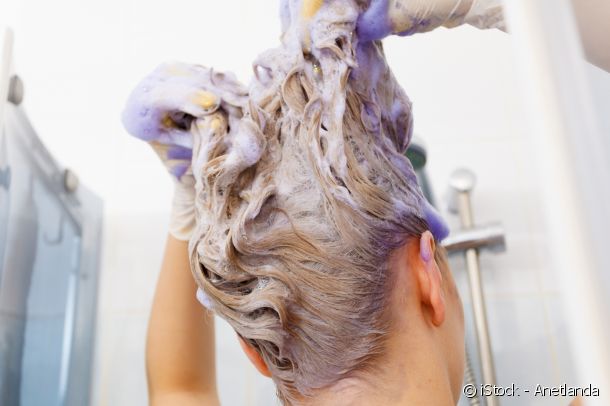 What's the problem? Fair, depigmented hair is weaker, as it is finer and stripped of the protective barrier which is made up of the hair's natural pigments. This makes your locks particularly susceptible to unsightly yellow highlights.
The solution! Treat your locks whilst correcting any undesirable shades that have formed by alternating light hydrating products, which nourish the hair without weighing it down, with a purple shampoo whose blue-purple pigments counteract the yellowing of the hair fibre. With this product, you can say goodbye to blonde or white hair that has turned yellow.
An additional tip. Choose the colour of your treatment according to the intensity of the fibre's yellowing. To rid your hair of slight yellowing or to prevent it from occurring, go for a mauve coloured shampoo. However, to rid your locks of yellow highlights that have already set in, opt for a product that is a darker shade of blue.
Beauty products to add to your shopping basket. The Energy and Brightness shampoo from Jean Louis David's Silver Therapy range is enriched with Vitamin E and it gently washes, protects and rids the hair of these annoying highlights. The slightly pigmented Bi-Phase leave-in Vitality and Light treatment is perfect for gently detangling your damage-prone locks and providing constant hydration, for a finish with zero unsightly highlights.
This article inspired you?
Take action and find your salon
The essentials

of the season