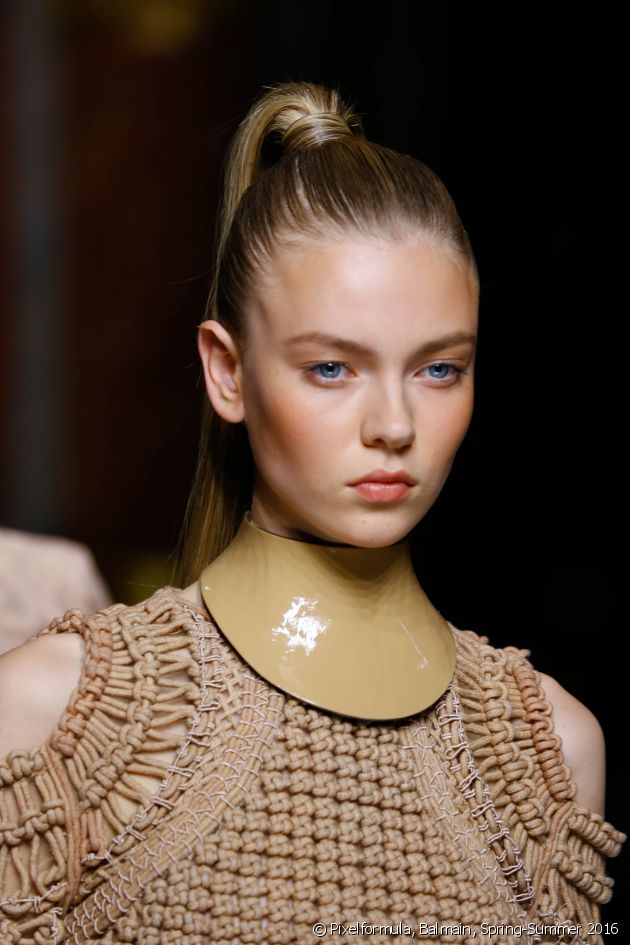 This article inspired you?
Take action and find your salon
Hairstyle
How to wear the ponytail in 2016?
Forget its practical or overly sporty side, the ponytail is evolving. Dare to try a dynamic high ponytail, a relaxed bohemian floaty version or a romantic braided style. We take a look at the on-trend ways to wear the ponytail this year.
The high ponytail for a sophisticated and dynamic look
Do you wish to have an immaculate hairstyle? As a high version with slicked back hair, the ponytail modernises your look. To create this hairstyle, start by straightening your hair for a poker straight finish. This tames frizz and gives an impeccable effect to your locks. Apply mousse (from the roots to the tips) to facilitate the next step. Flatten down your strands before gathering them on top of your head. Tie them up with a tone-on-tone or a transparent elasticated hair tie. The only golden rule: don't let any strands escape! Finally, select a relatively thin strand of hair before wrapping it around your elasticated hair tie. This is the perfect tip for hiding your accessory in a fashionable way.
The wavy ponytail for a relaxed look
If you are a fan of the bohemian style, opt for a deliberately effortless version. The idea? To create a loose tied-up style with a few waves to add volume. To create this look, use curling tongs with a large diameter. This device is the best option for creating impeccable curls or for creating more definition if your hair is wavy or frizzy. To protect your hair from the heat, apply thermo-active treatment from midway down to the tips (the section you are going to curl). Wrap large strands around the curling tongs and break up the curls slightly with your fingers to create floaty waves.
Before gathering your hair together, you have several options. For a conventional hairstyle, opt for a middle parting. Go for a side parting for a bohemian look or style your strands towards the back for a floatier finish. Finally, gather your hair at the nape of your neck, then form a low, loose ponytail. To finish, apply Fix Spray to make your hairstyle hold for longer.
The braided ponytail for a romantic style
Now the ponytail can be combined with a braid! This winning combination adds a twist to a classic style whilst giving a romantic look. Separate out a section of hair at the front of your head which will be used to form the braid. This must go from the centre of your forehead down to your ears. Then start braiding from the roots by using the African braid technique, then continue around the hairline. Stop behind the ears and hold it in place with a transparent elasticated hair tie. All you need to do now is tie up your hair into a low ponytail, before applying the all-essential hairspray.
This article inspired you?
Take action and find your salon