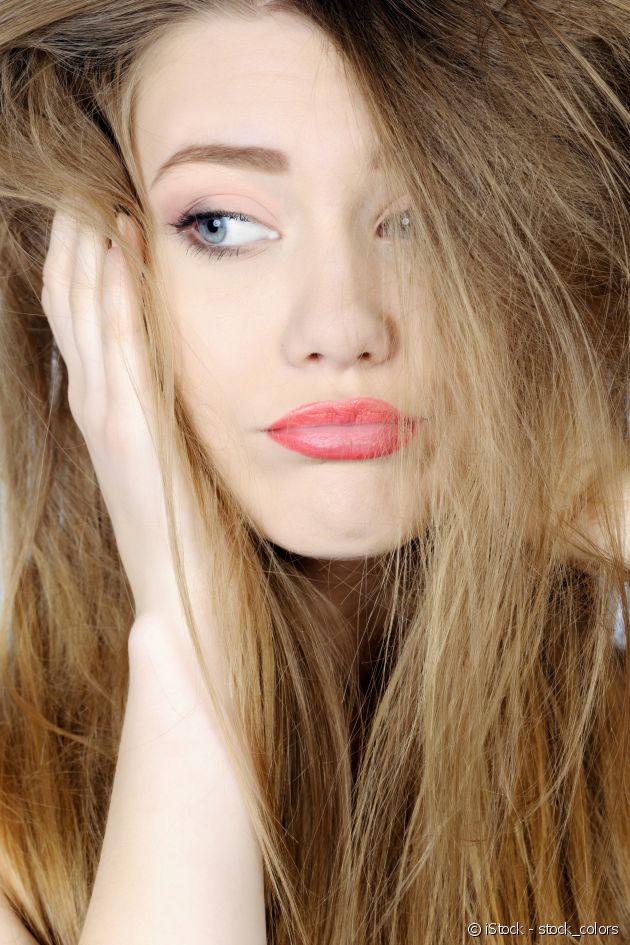 This article inspired you?
Take action and find your salon
Damaged hair
Why does my hair look fluffy?
Despite treatments and styling, maybe your untameable hair has a messy, fluffy look? Read on to find out the reasons behind this hair issue.
Your hair is fluffy because it is porous…
Is your hair dry and dull, neither straight nor curly, does it blow out after blow-drying and does it have a mind of its own no matter which masks or treatments you apply? These are all signs that your hair is porous! This occurs when the hair fibre's cuticles, which usually form a protective barrier, are lifted so much so that the hair absorbs humidity but cannot retain moisture. This is the complete opposite to healthy hair which has smoothed down cuticles. Damaged hair clumps together with unsightly frizz, thus making it look fluffy.
…or your haircare regime is not right for you
There are multiple reasons for your hair being in this condition. Amongst the numerous culprits are poorly chosen treatments which do not meet your hair's needs and do not suit its dry, fragile nature. Also, overly vigorous brushing when your hair is dry and blow-drying your hair in all directions can make the cuticles' scales stand on end. To say goodbye to dishevelled locks once and for all, opt for a mild shampoo that gently washes your hair whilst hydrating it and a keratin mask which repairs the hair deep down. To smooth down the hair fibre's cuticles, regular oil baths are a must prior to washing. As for styling: diffusers are a great ally for curly hair, immaculate blow-drying is perfect for straight locks and leave-in hydrating treatments work wonders!
This article inspired you?
Take action and find your salon