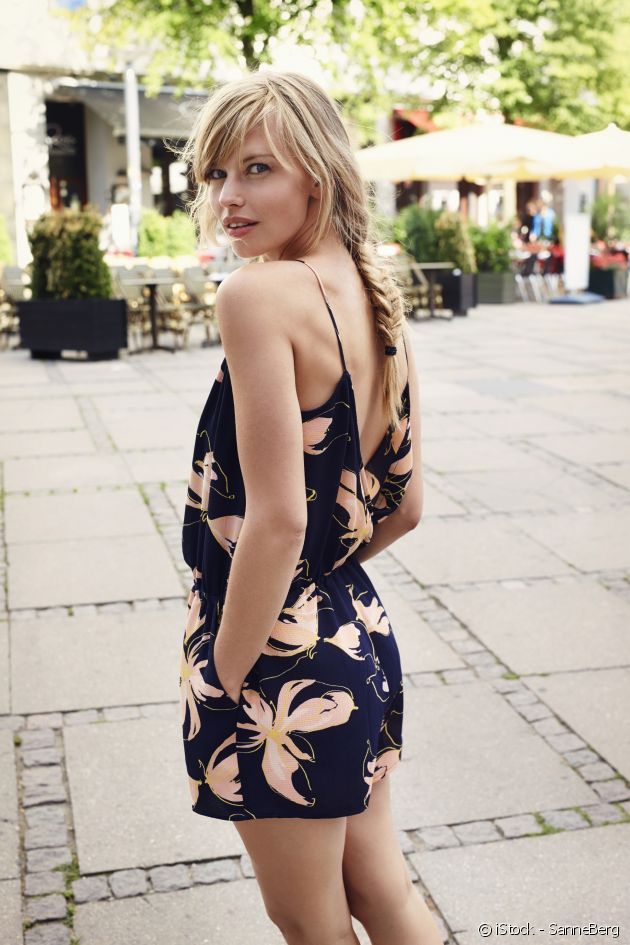 This article inspired you?
Take action and find your salon
Hairstyle
4 quick and easy hairstyles to do without a mirror
It's not always easy to find a mirror for styling your hair through the day. For hassle-free hair touch-ups, here are 4 styling ideas that you can do without a mirror.
The side braid
Highly on trend this summer season, the braid is a must-have style for taming your locks. When you only have 3 minutes flat to do your hair, opt for the side version which makes braiding easier.
The technique. Gather your hair on one of your shoulders and start by braiding from your earlobe downwards. Do a simple three-strand braid which you will continue down the whole length. Hold it in place with a hairband and then slightly loosen the braid to give it more volume.
The messy ponytail
Practical for keeping your hair out of your eyes in the blink of an eye, ponytails suit almost every hair length. You do not need it to be slicked back without a hair out of place – a floaty hairstyle will be an irresistible way of setting off your features .
The technique. Lean forwards to make it easier to gather all of your hair into one bunch. Do not pull on your hair so as to keep the volume at the roots. Then choose where you wish to form the ponytail: either at the top of your head for a high ponytail or at the nape of the neck to form a low ponytail . Hold the style in place with a hairband, without overly tightening it. Then pull a few fine strands out of the up-do around your hairline to get a de-styled effect.
The chignon bun
This is undoubtedly the ideal hairstyle for making you feel comfortable . In no time at all, a bun will lift your hair up and will keep you cool. For doing sport or going out for the evening, the chignon is perfect for any occasion.
The technique. Start by putting your hair up in a high ponytail to form the basis of your chignon. Then wind your locks around themselves to form the top knot and hold it in place with a hairband. For daytime, leave a few ends poking out of the chignon to create an on trend octopus bun . For the evening, opt for a more tightly wound sophisticated version.
Side-swept hair
Do you like leaving your hair down? Opt for side-swept hair which will showcase your locks and will let your naturally straight or curly hair have free rein.
The technique. Mark out a side parting on the opposite side to where you wish to let your locks tumble down. Then gather all of your hair onto one shoulder and hold the movement with a few bobby pins matching your hair colour. A top tip? Cross them over to make sure that the hairstyle holds.
This article inspired you?
Take action and find your salon