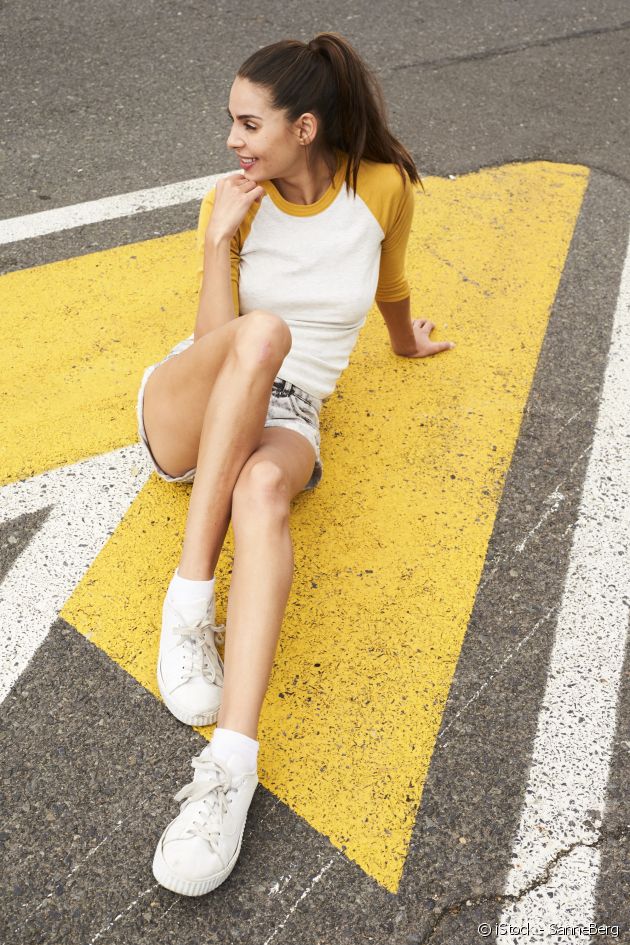 This article inspired you?
Take action and find your salon
Hairstyle
Which ponytail should I go for to suit my face shape?
A must-have, easy hairstyle, the ponytail can be reinvented in any number of ways. Find out how to wear it to best suit your face shape.
High and floaty to balance out a round face
Avoid overly slicked-back ponytails which will flatten down your hair and accentuate the roundness of your features. Instead, opt for a ponytail positioned high on top of your head , enhanced by a de-styled look. This is the ideal hairstyle for making your face look longer and blurring its contours.
The technique. Gather your hair at the top of your head without pulling on your hair, to keep volume at the roots and create a loosely tied-back style. Then pull out a few strands along the hairline to finish off the whole look.
A quiff and side ponytail combo to soften a square face
To balance out angular features characterised by a wide jaw, you need a hairstyle which makes the angles look rounder. Your ponytail shouldn't "harden" the shape of your face but quite the opposite, give it a softer look. To achieve this, opt for a quiff and side ponytail combo.
The technique. Mark out a side parting to add movement, and then backcomb the upper layers to create volume . Then hold your hair in place to one side, halfway up or at the nape of your neck to balance out the bottom of the face. Feel free to curl the lengths of your low ponytail to soften the contours even more.
A half-ponytail to make a long face look shorter
So as not to accentuate the long look of your face, leave your hair loose and opt for a half-ponytail.
The technique. Select a wide section of hair on top of your head and gather it towards the back to form the ponytail. By doing this you will hold back only part of your locks partway up your head. Feel free to play with the rest of your hair by putting in pretty waves using curling tongs to give more volume to your locks and to balance out your face shape.
A low ponytail for a heart-shaped face
Rather than draw attention to a large forehead with a high hairstyle accentuating its size, opt for a low ponytail tied at the back to create a faux bob to structure your face.
The technique. Tie up your hair at the nape of your neck by billowing out your hair to create a faux bob . This will also fill in the space left by your narrow chin and will thus seemingly reduce the depth of your forehead.
Any style of ponytail for an oval face
High, mid-height, side or low, you are lucky: all ponytails look great on you as your face is naturally balanced.
A professional tip? Have fun trying out different hairstyles – by moving your ponytail into different positions depending on your desired look, by accessorising your ponytail or by adding texture to your locks.
This article inspired you?
Take action and find your salon