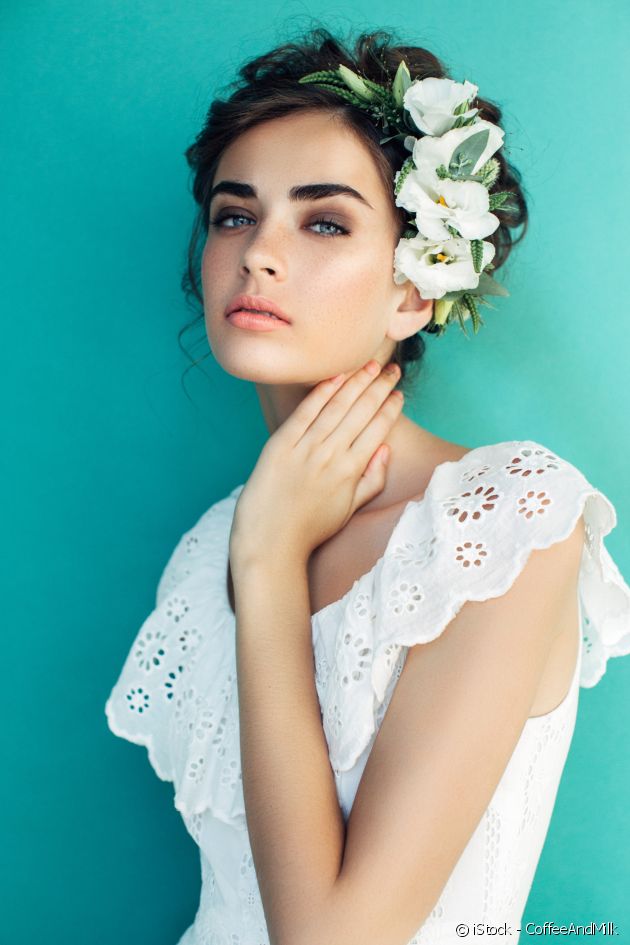 This article inspired you?
Take action and find your salon
Hairstyle
Wedding hairstyles: 3 looks for the big day
Are you getting married in the autumn and do you want to boost your hairstyle? Opt for next season's trends with our 3 styling ideas for a September wedding.
A classic up-do for a sophisticated look
After the charming exuberance of braids which styled summer brides' locks, the watchword for autumn weddings is simplicity. Without embellishments, up-dos are going elegant and discreet this autumn, so as to not steal the limelight from the dress.
The trend is to have perfectly straightened tamed locks with a central or side parting, held back with a small ballerina bun at the nape or with a low ponytail adorning the back. These up-dos held back with four hairpins showcase your features and have the advantage of suiting all types of wedding dresses.
The unstructured chignon for an incredibly romantic hairstyle
Neither too severe nor too nonchalant, this messy-styled chignon is ideal for September brides. The perfect hairstyle for in-between seasons, it combines the elegance of summer and the classic looks of winter wedding hairstyles. It can easily take on the subtle messy-styled effect as seen at the Autumn-Winter 2017-2018 fashion shows. Created in complete simplicity leaving a few floaty strands loose from the hairstyle, it gives you an irresistibly romantic look which will make him rush to say 'I do'!
Waves for an ultra-feminine look
For those who prefer wearing their hair down on their big day, go for a natural style with subtle pretty waves. Perfectly sculpted or floaty with a touch of volume, they enhance your hair with femininity. Created with curling tongs and then relaxed with a comb or brush, they enhance your wedding outfit to give you a princess look. For those who wish to combine them with a loose chignon for the first dance, they look just as fabulous up or down.
This article inspired you?
Take action and find your salon