This article inspired you?
Take action and find your salon
Trends
The mullet trend, JLD's must-have of the season!
The mullet enjoyed a glorious heyday in the 70s and made a low-key comeback a few years ago. But now the mullet is coming back for good, with more style than ever, in Jean Louis David's Crazy about JLD spring-summer 2020 collection. Inveterate rock chicks and fashionistas better take note – Jean Louis David's new and improved take on the mullet has everything going for it.
From the 70s right up to 2020, the mullet holds on to its rock 'n' roll spirit
You may have forgotten all about it, rejected it or pushed it into a corner of your mind, but the mullet did have its heyday, in the 70s. It was sported by the most stylish women of the time, not least Debbie Harry and Joan Jett, and is surely set to continue winning over the most passionate of beauty fans. Revisited by Jean Louis David in his 2020 Crazy about JLD revival collection, this style, emblematic of a daring time, has been given an appealing modern and sophisticated revival.
A breakdown of the mullet
The mullet gets its cool hardcore rock chick look from the interplay of volumes and lengths. Mid-length like a standard bob, but intentionally messy at the sides, it's teamed with a long, thick contrasting fringe and thinned-out lengths. The little flyaway strands framing the face also lend the mullet a glam punk feel.
Straightened or curly, the mullet suits any style
The mullet is much more versatile than it seems, and can be made to suit whatever look you're going for. Play up the glamour with a curly version created using narrow curling tongs, go full punk by styling your hair towards the front like a mohican, or go for a soft look with a brush-straightened version for a natural-looking elegant finish.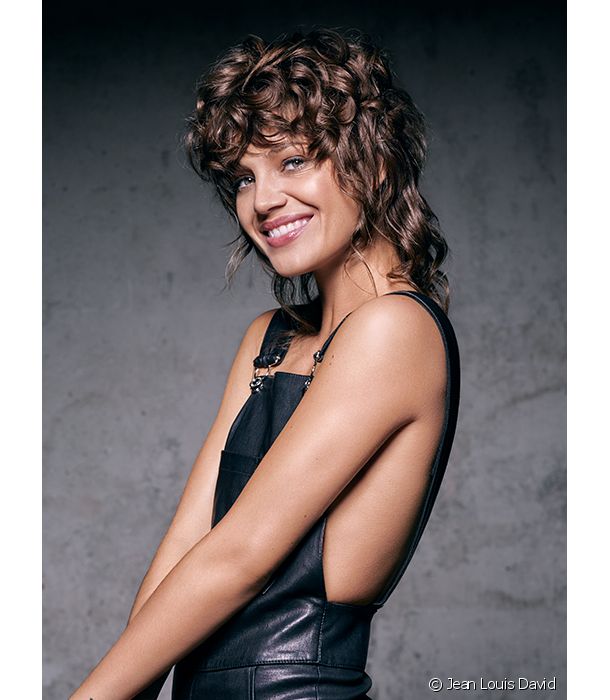 What colour goes with a mullet?
So, you're set on taking the plunge with a mullet, but you think that if you're going to change up your hair it's a case of in for a penny in for a pound? We're right behind you on that one. Since the mullet prompts an interplay of contrasts, now's the time for you to try out one of Jean Louis David's flagship exclusive treatments: Magic Light. There's nothing quite like lightening the hair all over to catch the light, whilst adding highlights and shine.
This article inspired you?
Take action and find your salon