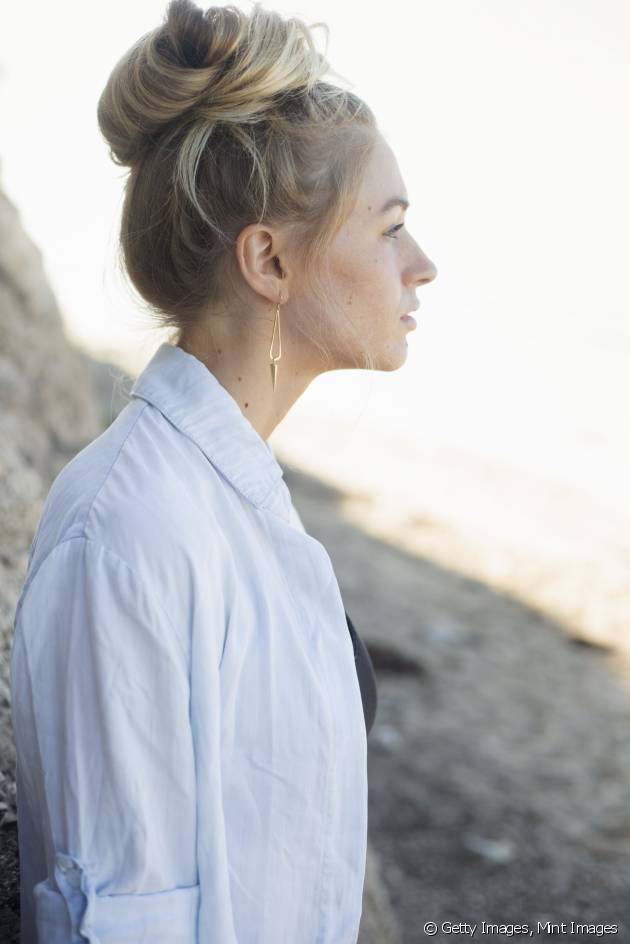 This article inspired you?
Take action and find your salon
Hairstyle
Which earrings suit which hairstyles?
Choosing earrings isn't just a matter of taste: although the shape of your face plays a big part, your haircut is just as important. Find out which types of earrings are suited to your hairstyle!
Drop earrings and large hoops for short hair
Have you fallen for a pixie crop ? Forget studs or other XS earrings: to compensate for your short hair, opt for drop earrings and large hoops. Drop earrings go particularly well with round shaped faces, whereas hoops are perfect for rectangular and oval faces. In the drop earring family, we have fully fallen in love with sleepers: a great classic which has made a big comeback with its rock versions. Another option: droplet earrings, for a sophisticated and romantic style.
Costume jewellery with slicked back hair
Whether you have a ponytail or a chignon, slicked back hair is perfect for keeping the hair out of your face. These sophisticated hairstyles have the advantage of making accessories stand out. To boost your look, dare to try XXL earrings or costume jewellery: perfect for avoiding a look which is too conventional.
Drop earrings or pearls for a chignon or half-ponytail
Chignons are one of those great classics: we can wear them to weddings as well as for an interview . Whether it be high, low, to one side, floaty or slicked back, it's an essential look! With the top knot, opt for delicate drop earrings: they will elongate your neck.
If you have fallen in love with the romantic chignon, go for shorter drop earrings embellished with pearls or coloured stones. Our tip: hide them discretely using a few strands. You can also go for a more oriental style of earring to finish off a bohemian look. Finally, pearls are a safe bet for an understated 100% sophisticated look.
Carte blanche when wearing your hair down
Do you like wearing your hair down? Make the most of wearing earrings to enhance your haircut. Studs (stones or pearls) are classics: they have the advantage of being discreet and they go with everything, whether it be your outfit or the shape of your face. If you have fallen for a bob hairstyle, feel free to wear two or three in each ear, for more of a rock look. Another option: drop earrings! It's down to you to decide between gold (best for blondes!), silver, a coloured pair or even copper earrings. Avoid XXL versions or costume jewellery: we see these earrings better when you have your hair tied-up.
Have you made your choice? Go one step further by discovering the accessories spotted on the 2016 catwalks .
This article inspired you?
Take action and find your salon