Trends: 1920s finger waves
Finger waves, a legendary 1920s hairstyle, are making a big comeback this season. After having made their mark on the Fall-Winter 2016-2017 fashion shows during recent Fashion Weeks, they are tempting high street fashionistas as a way to boost their style. Trends, styling ideas and techniques… We've taken a closer look.
All about daring sophistication, finger waves instantly evoke the Roaring Twenties (1920-1929), characterised by meticulous hairstyles without a hair out of place. The biggest stars of the era such as Joséphine Baker, Kiki de Montparnasse and Mistinguett all showcased wavy locks. In 2016, this legendary hairstyle is making a huge comeback by making an appearance on the catwalk at some of the top designers' fashion shows. Find out 3 ways of making this look yours, which are both modern and sophisticated.
How should finger waves be worn this winter?
Side-swept hair as seen at the Jenny Packham fashion show
On the catwalk, models have been wearing long, straight and loose side-swept locks. Hair which is also structured by a clear side parting. The finger waves decorate the front section and are created only in the mid-lengths, adding a touch of modernity to the hairstyle with contrasting textures.
How can I create this hairstyle? Get your hands on curling tongs with a wide diameter. Then select a relatively wide strand of hair and wrap it around your tongs set at the right temperature. Hold it in position for 10 seconds before releasing the strand. Finally, brush your waves to loosen them and spritz on hairspray.
On slicked back hair as seen at the Marc Jacobs fashion show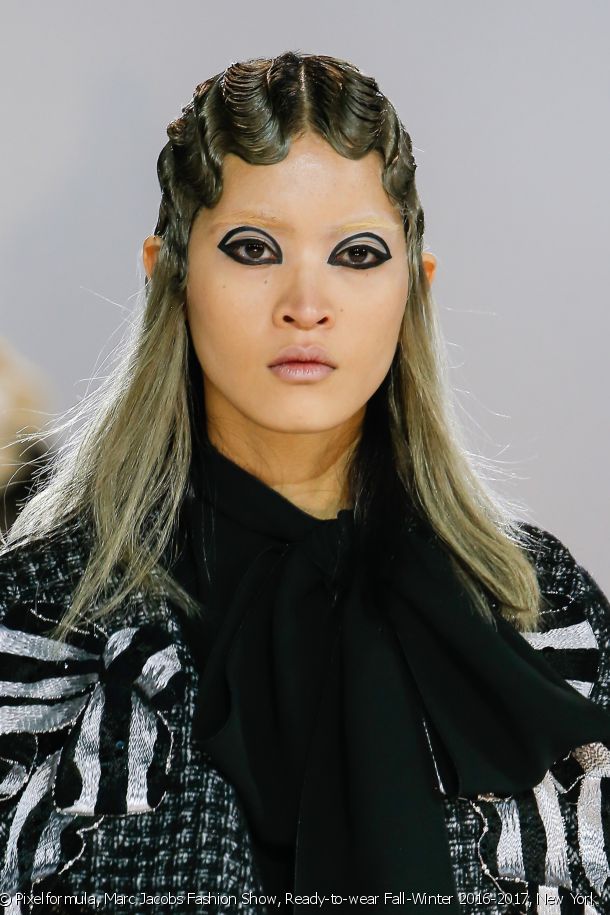 Like on the model pictured, the finger waves are only on the roots and are flattened down against the head. However, the rest of the hair is left loose. The result? A hairstyle which is both original and daring. To tone down the look, feel free to tie your hair into a low chignon.
How can I create this hairstyle? Start by applying styling mousse to damp hair. Flatten down your roots against the head using wavy hair grips. Place them horizontally, spacing them out by a few centimetres. Once your hair is dry, carefully remove the hairpins and there you have it: ultra-defined waves. As a finishing touch, fix the whole look with hairspray.
Finger waves front section as seen at the Opening Ceremony fashion show
All the character in this hairstyle is in the finger waves front section, which decorates the forehead in an on-trend way. The front section is shiny and fully flattened down against the forehead in a wet look style. As for the rest of the hair, it cascades down the back and is structured by a side parting.
How can I create this hairstyle? To get finger waves this soft, you will need a large diameter roller. On damp hair, separate out a section and wrap your hair around the roller. Let it dry (preferably by air drying) before removing the roller. Then loosen the curls with a brush. Finally, flatten down the front section with your fingertips and add a small amount of gel before applying that all-essential spritz of hairspray.
This article inspired you?
Take action and find your salon
The essentials

of the season