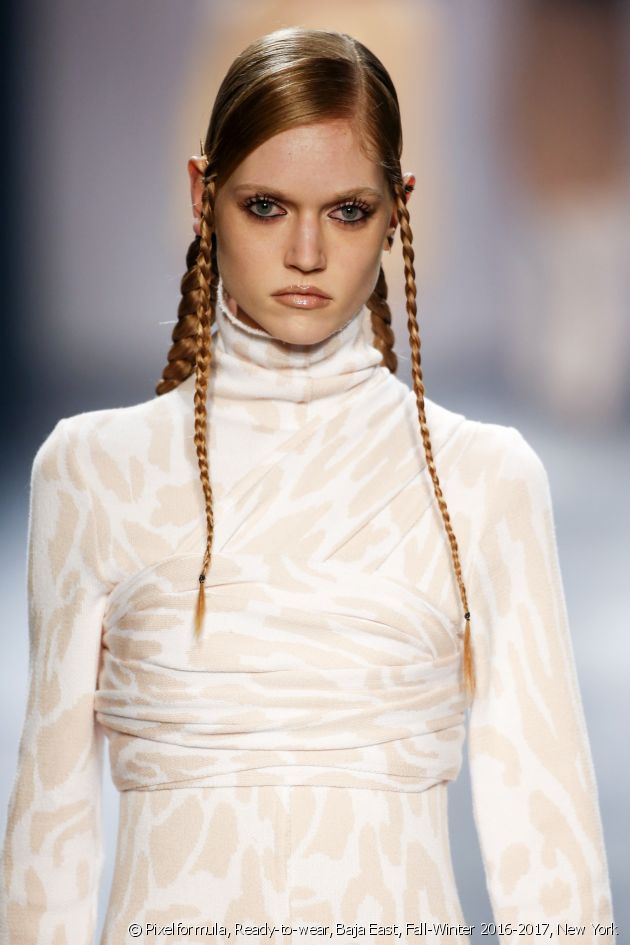 This article inspired you?
Take action and find your salon
Hairstyle
Trend: the tight braid
This season, the trend is to have extremely tight braids. Spotted on the Fall-Winter 2016-2017 catwalks, they come in a whole range of different versions. We take a closer look.
Whilst standard braids are appealing due to their romantic charm, tight braids give your look a daring edge. They can be worn down the sides of the face, slicked back or manga style, "standing up on end" on your head, boosted by static electricity.
Those who wish to create a stylish look can draw inspiration from the Baja East fashion show, as shown in the photo. You just need to mark out a side parting, apply wet-look gel and braid a strand on either side of your head at the front. This is an original way to replace the strands which would usually frame your face. However, instead of softening the look, they give your hairstyle a punky edge!
For a romantic look
It is possible to wear tight braids without creating a grungy style. For a more rustic style, braid three fine strands in loose hair without being overly neat. These small plaited details will give you a modern-day Pocahontas look. For a more sophisticated result, tie your hair up into a floaty chignon to showcase your mini braids.
For fine hair
To give body to a tight braid, clip curtain-like hair extensions underneath a strand of your choice. Combine the extension strands into your hair when braiding. This tip is perfect for creating thick cornrows , thick braids lying flat against the head.
A tip. Overly tightening your hair may cause breakage. To prevent this damage, take care of your locks by applying a nourishing treatment to dry hair, just prior to styling. For example, opt for argan oil , which effectively repairs the hair fibre with its Vitamin E content.
This article inspired you?
Take action and find your salon