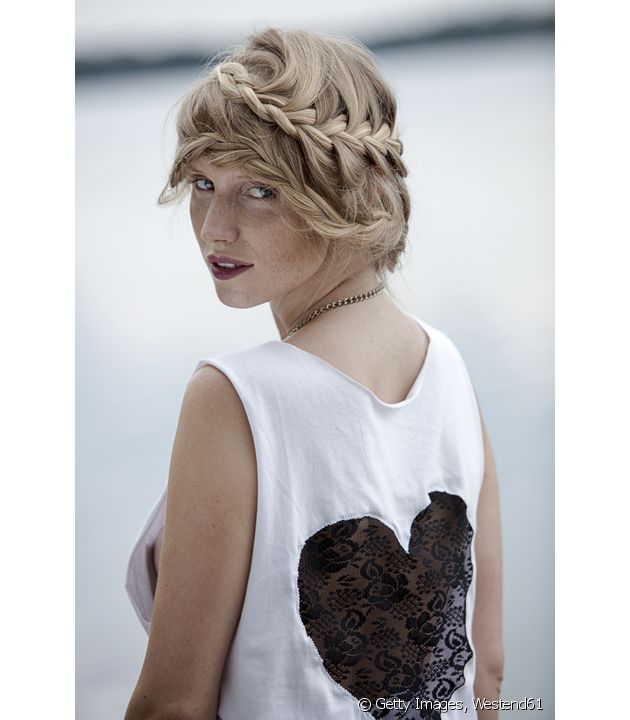 This article inspired you?
Take action and find your salon
Hairstyle
How can I create a fishtail braid when I have short hair?
A must-have look this summer, fashionistas have been showing off the fishtail braid all over the world. The good news: this trendy hairstyle is achievable for you, even if you have short hair! We tell you everything…
Having a minimum length of hair
When we say you can achieve this hairstyle with short hair, it still requires a minimum length. If your hair is less than 5cm long, the task will prove to be rather complicated. However, a mini-fishtail braid will create the most beautiful effects on a short haircut when combined with a side-swept look. Likewise, if you have fallen for a short bob !
As for technique, it's exactly the same as if you had long hair. The only difference: you must choose a smaller section of hair to create your fishtail braid with . In fact, your short haircut will not allow you to form one single braid with your whole hair. When creating this style, you must fully concentrate in order to be as precise as possible.
Prepare your hair
Before you start braiding, start with a mini regime. Your objective? To deeply hydrate your locks whist adding maximum shine. To do this, use Moisture and Lightness Shampoo from the Oil Therapy range. A must-have product for purifying your scalp and eliminating impurities. Not to mention it boosts the hair fibre due to its beneficial ingredients: jojoba, argan and date palm oil. Our tip? Leave your hair to air dry, then carefully detangle your locks with a hairbrush. Work strand by strand so no knots go unmissed. That's it, your hair is ready to be styled!
Create your fishtail braid
Start by separating out a section of hair which will be used for the braid. Divide your hair into two sections. Select a small strand of hair on the outer part of the right hand section and move it into the centre. Do the same with the left-hand section. Always choose strands of the same thickness to ensure your braid is even. Continue doing this for the entire length of your hair. Finally, hold it in place with a transparent hair tie at the tips.
Finish off your hairstyle
Style the rest of your hair according to your desired look and your mood that day… Leave your hair's natural texture as it is, go for poker straight locks or give a wavy effect to your hair… You have carte blanche with this hairstyle!
This article inspired you?
Take action and find your salon