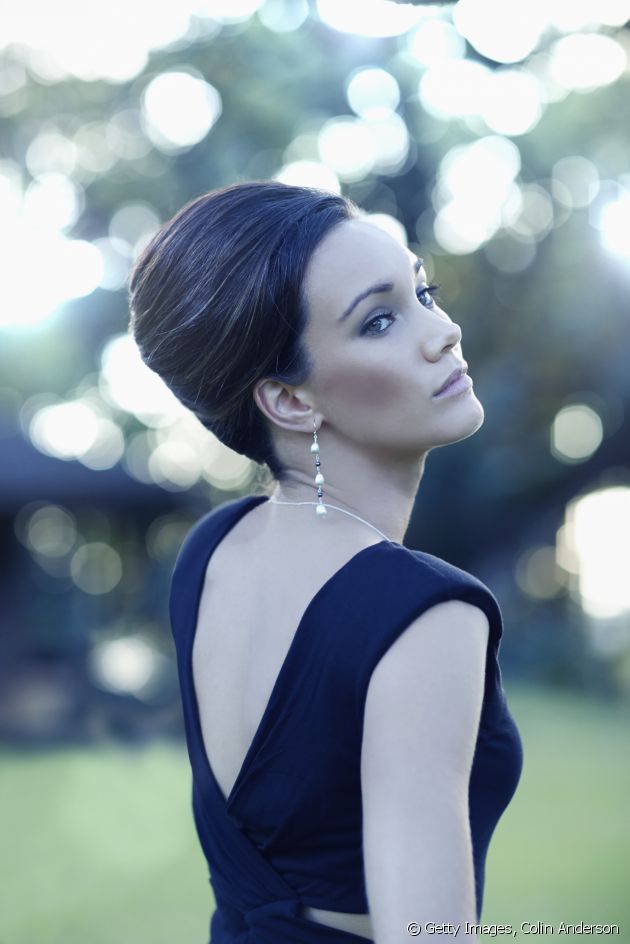 This article inspired you?
Take action and find your salon
Styles and trends
Which hairstyle should I wear with a sheath evening dress?
A must-have look of the 50s, the sheath dress is a classic. After Audrey Hepburn, Kate Middleton is known for often wearing this style of dress in either long or midi versions, in a block colour or with patterns. Combine it with a chignon, slicked back hair or a boyish messy-styled look!
A chignon if you have long or mid-length hair
The advantage of the sheath dress is that it elongates your figure like no other! An effect created by its pencil shape. With this style dress, it's all about the details and the power of suggestion. For an impeccable look, reveal the nape of your neck and wear your hair up.
If you are inspired by Mad Men, go for a banana chignon! To create the twisted version. twist your locks in on themselves, before lifting your hair up to the top of your head. A little tip: accentuate the retro effect by backcombing a few strands to form a quiff. This will give more body to your locks, especially if your hair is fine.
For a less sophisticated but a highly fashionable look, opt for the bun. Here, the hair is flattened down towards the back, then gathered into a high chignon.
Do you have a fringe or frizzy hair? Opt for a floaty chignon. Just as chic as other chignon styles and a must-have for bohemian brides! The objective? To create a messy-styled effect. As a finishing touch, add hair jewellery such as a metallic headband.
Flattened down strands if you have a bob
If you have opted for a bob haircut, flatten down your strands with a wet look finish. The idea is to create a more subtle rock style than a fully slicked back look. Once again, the hair is gathered towards the back to keep it out of your face.
To obtain a wet look effect, apply a small amount of Beach Gel to damp strands and style all of your hair towards the back, tucking some strands behind your ears. Another variation: side-swept hair and a side parting. Flatten down the strands on the right-hand side and leave those on the left loose to accentuate the effect and vice versa.
A messy-styled effect if you have short hair
Have you fallen for a pixie crop? The sheath dress is perfect for showcasing your femininity! Two options for styling: the conventional version or a messy-styled effect for more of a rock chick look. First of all, apply a small amount of Beach Gel and style your hair in a classic way. For a more natural boyish style, work with your strands using your fingers by fixing them with a small amount of gel.
The final step: find the perfect pair of earrings to finish off your look.
This article inspired you?
Take action and find your salon