Looks
The Wet Look trend in the spotlight for Spring-Summer 2021
The Wet Look hairstyle has proven to be a hit this new season and it's set to stick around! Wet Look hair is gelled to look like you've just stepped out of the shower or have been for a swim. And it's undoubtedly THE trend hairstyle of Spring-Summer 2021. It brings something refreshing, elegant, modern and sexy to your days… and nights. So grab your hair gel and find the Wet Look hairstyle that suits you. Short or long hair, worn up or down, there's a Wet Look style for all tastes!
The Finger Wave Wet Look
The ideal way to give a vintage touch to your look, the finger wave Wet Look is the style of the moment for short hair.
To create this hairstyle which gives a real vintage look straight out of the 20s and 30s, begin by applying a small amount of Jean Louis David Design Gel Go Style on the front of your hair, before using a comb to create the finger waves of your dreams. Go for either a middle parting or a side parting, the choice is yours – each have their own effect! To set the waves, finish off with a hairdryer.
The boyish quiff
How about a boyish cut that's feminine and glamorous?
The Wet Look quiff effect is perfect for short haired women who love simple and effective hairstyles. Here, the hair is smoothed with Jean Louis David Shine Wax Go Style and gently teased up at the front to give a bit of volume and movement to the hairstyle. Easy to do and just as well suited to an elegant outfit as to a rock and roll look!
The twisted bun
If you love a sophisticated bun with an original touch, the twisted bun is the hairstyle to adopt this season.
Here we have a twisted bun on the top of the head with the hair gelled flat on the sides and the edges worked as baby hair. The result is a sensual, glamorous and very contemporary look. Create a shiny, almost wet look by applying Jean Louis David Design Gel Go Style on all of the hair, except the bun.
The sleek ponytail
The ponytail is a hairstyle that's always going to be in fashion. But this season, the Wet Look effect gives it a new dimension.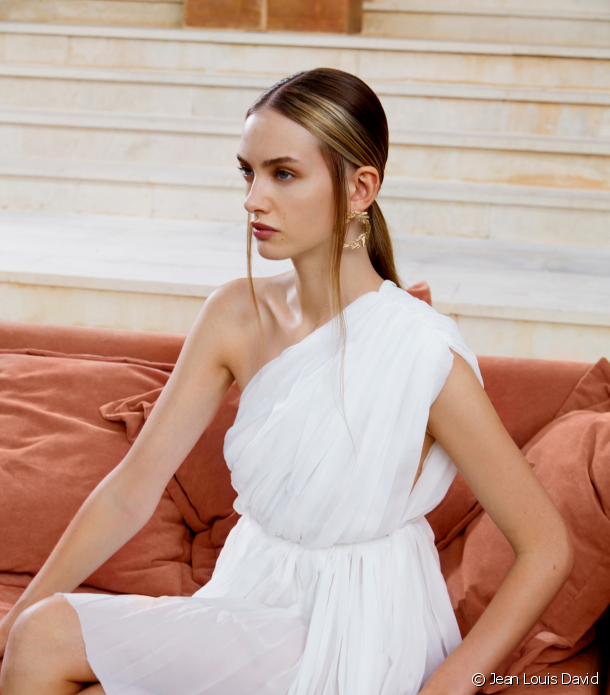 Suited to long and mid-length hair, the sleek ponytail is a modern and romantic hairstyle that can be worn by day or by night, in the city or on holiday. This Spring-Summer 2021, it has been reinvented with two sections in front of the ears left down, and a wet look achieved using Jean Louis David Design Gel Go Style. A sweet and poetic hairstyle which is sure to seduce!
The Wet Look for men
Did you think that the Wet Look was just for women? Wet look styles are also well suited to men and it's worth giving it a try.
In 2021, the slicked back look is not done with us yet: here we've opted for a very retro hairstyle with a sharp parting on one side and a slightly wavy and volumized section on the top, fixed with Jean Louis David Shine Wax Go Style. So sensual, don't you think?