This article inspired you?
Take action and find your salon
Street Style
Streetstyle: Guillaume's dandy rock'n'rétro look
Every month, we interview a person in the street and ask them to tell us about their look. This time our microphone stopped in front of Guillaume, with his dandy rock and retro look.
When we passed Guillaume in the street he instantly caught our attention. With his long hair, tartan trousers and wholehearted laugh, this young man certainly does not go unnoticed. He agreed to share with us the key to his self-styled look and attitude.
Could you describe your style to us?
Guillaume: I'm a dandy rocker inspired by the 1970s. I love combining vintage pieces, seventies patterned shirts and trendy items bought from second-hand clothes stores. I also have a rocker side to my look due to my mid-length hair, leather jacket and skinny trousers. I love putting a twist on my outfit with quirky, often printed pieces.
Could you describe your outfit to us?
G: I'm wearing a grey woollen cable-knitted jumper, tartan suit trousers, grey bi-material trainers, a blanket style scarf and… Mismatched star patterned socks! Mix and match socks are my thing, apparently. [He laughs] Well, I often wear different designs from the same collection so that they still go together.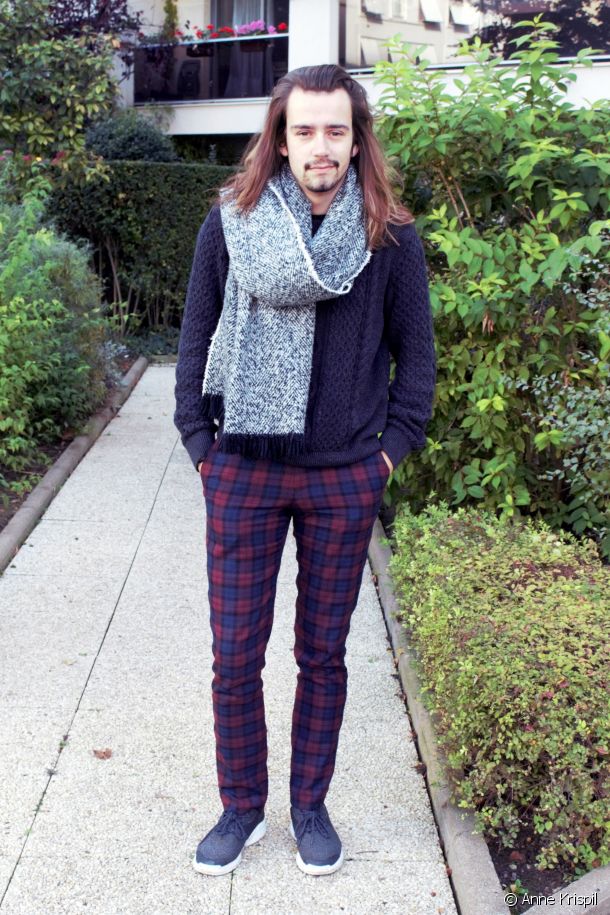 What is the must-have piece in your wardrobe?
G: A really nice leather jacket which I've had for three years. I wear it regularly mid-season and in winter. I think it's really cool as it gives a rocker look to my outfits, even the more mainstream ones.
You like to take style risks… Are you fearless in fashion?
G: Nothing is off-limits really. You need only take a look at my shirts to see that. [He laughs]. I've been known to buy clothes that I've never worn to work as they are not professional-looking enough. Such as some skinny pink suit trousers which are too loud and skin-tight.
You have mid-length hair which isn't all that common for guys. Why did you go for that look?
G: I went through all of the hair-growing stages! Three years ago I even had a shaved head. I didn't like it. And as my mother could no longer force me to get my hair cut and my hair looks quite nice, I let it grow out. My mid-length hair is clearly a style accessory which helps give me a quirky rocker look. It defines who I am. When my hair's looking great, I leave it loose but I also like wearing it in a bun.
This article inspired you?
Take action and find your salon