This article inspired you?
Take action and find your salon
Street Style
Mathilde: a casual look
Every month, we take a closer look at the outfit of a man or woman who catches our eye. After taking a look at Julie's masculine/feminine style , it's Mathilde's turn with her relaxed look!
Levallois, a November day. We came across Mathilde, editor-in-chief of the home decoration website 31 mètres carrés . With a big smile and a relaxed look, she stopped for a few minutes to answer our questions.
Could you describe your look to us?
This outfit is a perfect example of the clothes I tend to wear in winter: a warm jumper and jeans. I love simple outfits that I feel comfortable in. Today, I chose this bottle green jumper (unfortunately I can't tell you the brand as I took the label off!) teamed with H&M slim fit jeans. I wanted a pair of blue jeans which weren't washed out or too dark and which were cropped at the ankles.
Do you often wear light-coloured shoes in winter?
No, I think this is my only pair. I try to avoid getting caught the rain so that they don't get stained! They're Dicker boots by Isabel Marant, one of the brand's flagship designs. They are perfect given their shape and low heel (5.5cm) which suits my 5 ft 7″ height. They're one of my favourite pieces in my wardrobe, all the more because I managed to get them on eBay at a more reasonable price. I wear them for all occasions (for work, walks, evenings out, etc.).
What is your handbag style?
Whatever the bag's size, I need it to be practical more than anything. Recently, for example, I added a strap to a clutch bag so that I could carry it more easily. The material used is also important, as with this black bag from the brand Craie. I like its loose shape and its textured leather which has developed a sheen over time.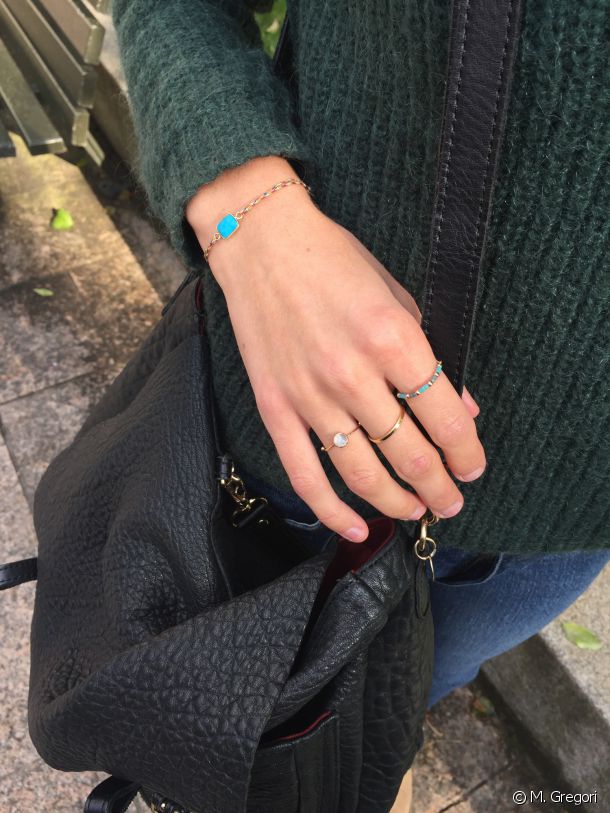 And the delicate jewellery, is that your signature style?
It's true that I haven't taken off these delicate gold rings for some time, having bought them from designers on my travels. I wear them both in summer and winter!
This article inspired you?
Take action and find your salon