Street Style
Pauline and her relaxed/sophisticated look
Every month, we take a closer look at a man or woman who has inspired us with their style. This time it is Pauline's turn, with her sophisticated yet relaxed outfit.
Toulouse (31), on a Thursday in December. We come across Pauline, a marketing manager. Before going off to buy her last few Christmas presents, she strikes a pose with a smile and plays along for a quick interview with us.
Could you describe your look?
At the moment, I swear by black lace, like this Pimkie blouse adorned with a Peter Pan collar. I usually wear it like I am wearing it today, coupled with Zara suit trousers, which are baggy for a more relaxed style, or with raw denim jeans. I love coupling these pieces with a Sandro leather jacket to give a "rock chick" look to the whole outfit, and a pair of white Stan Smiths to break up the fully black outfit.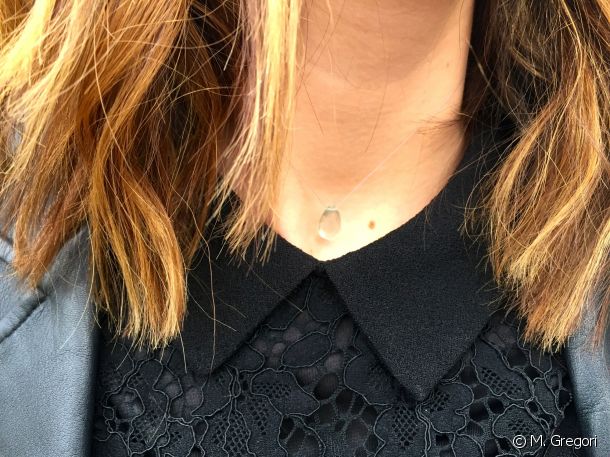 The trainers and suit trousers combo, is that your signature look?
Yes, it's the perfect mix between comfort and sophistication. I love being stylish but I like feeling at ease too! As for colours, I alternate between wearing white, black, grey and gold trainers… I have loads of pairs and I have a weakness for suede, glittery or imitation crocodile designs.
What are your favourite colours?
Black, white and grey… which I liven up with a touch of colour. Today, I have done this with two items that I love: a Diane Von Furstenberg pink leopard print scarf and an electric blue clutch that I found on Amazon.
What is your tip for personalising an outfit?
Besides a few coloured accessories, I also use jewellery to personalise my looks. At the moment, I can't live without my 21 grams necklace, my Cluse watch and my Dinh Van ring. If I had time, I would also apply red or burgundy nail varnish to add the finishing touches to my outfit.
Finally, is wavy hair your favourite hairstyle?
It has been for a few months, yes! In the morning, I take a few minutes to put waves into my hair with straighteners and I add a small amount of plant oil. I break up the curls for a floatier effect and that's it. Recently I had about 15cm cut off my hair to make my hair look more dynamic and I think wavy hair suits my new haircut. Especially when it is combined with a few lighter strands, like my blond ombré.