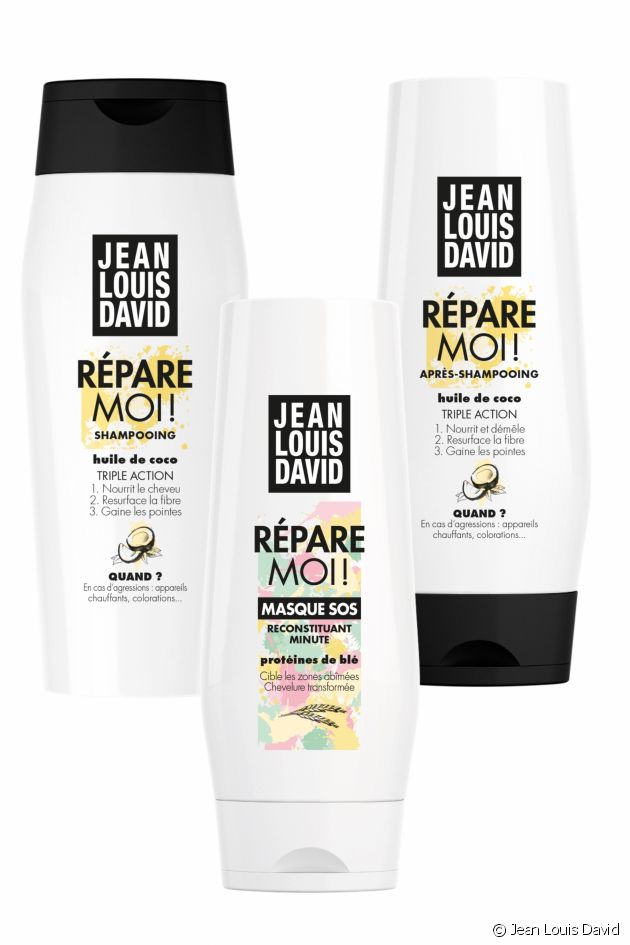 This article inspired you?
Take action and find your salon
Hair care
A closer look at Jean Louis David's Repair Me! range
To rescue dry, brittle locks, Jean Louis David has created the Repair Me! range. We take a closer look at this selection of products which can help to make your hair stronger in the long term.
This trio of treatments (rebuilding shampoo, conditioner and hair mask) is designed as a repair 'workshop' for damaged hair. Its aim? To repair damage-prone hair fibres and make them more resilient as regards external damaging factors. To do this, Jean Louis David has combined two winning ingredients:
– Triple action coconut oil which is nourishing, repairing and coats the hair
– Wheat proteins with fast-acting regenerating power to leave your hair deeply hydrated, restructured and strengthened.
For which hair type?
Specifically formulated for dry, brittle locks and those overprocessed by too much colouring, the Repair Me! range strengthens the hair fibre down to the tip. However, there are no miracles when it comes to split ends. You must still get your hair trimmed to get rid of them.
How do I use these treatments?
Apply the shampoo to wet hair. Massage it into your scalp and then the tips, to let its formula rich in iron, manganese and copper work. Once rinsed away, it will leave a pleasant coconut fragrance in your hair! Then apply the conditioner to your lengths, particularly focusing on the tips. It will intensely nourish and help to restructure your damaged locks. Finish off by using the mask and apply a small amount of the product from the mid-lengths down to the tips. Leave its nourishing agents to work for a few minutes before rinsing.
This article inspired you?
Take action and find your salon