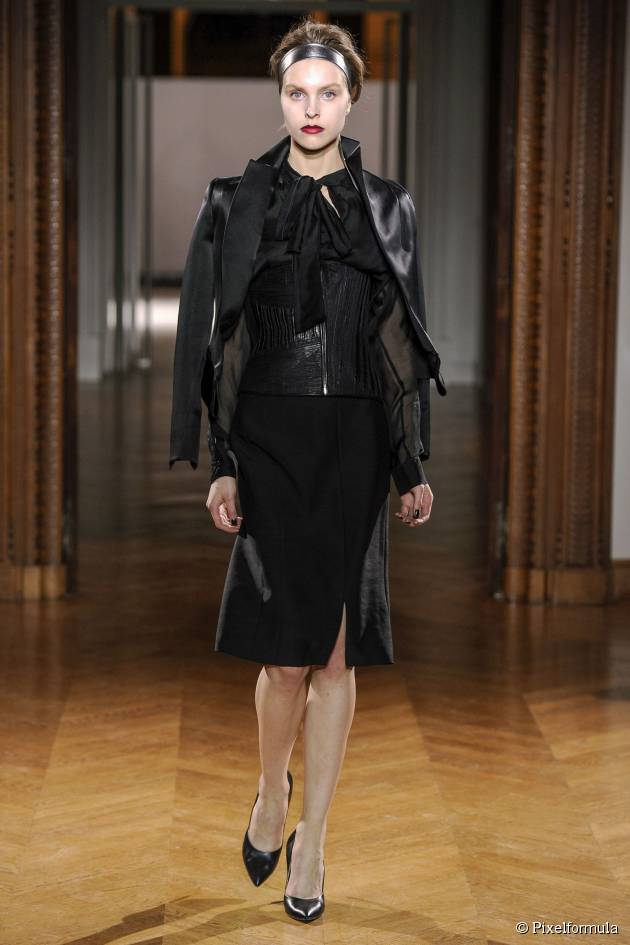 This article inspired you?
Take action and find your salon
Styles and trends
The metallic headscarf and updo combo
Whatever the season, the headscarf is a must-have accessory for completing your look. Make sure your headscarf is in a metallic hue this season, similar to those spotted on the Atelier Gustavolins Spring-Summer 2015 at Paris Fashion Week.
The trend
A low-slung ponytail with long, straight, glossy locks. Thanks to this timeless updo, models appeared feminine and oh-so elegant. Yet the defining detail that changed everything was, without a doubt, their metallic head scarves! This accessory helped add some personality to the look whilst opening up the models' faces and complimenting their complexions. Head scarves were tied into a headband-style knot to help show off models' lengths whilst roots were backcombed at the crown to boost volume.
How to wear the metallic headscarf
Make like the runway models and combine this unique hairstyle with a sophisticated make-up look and outfit. This glamourous style is ideal for special occasions…pair with your favourite LBD for your next evening out about town.
Get the look
Start by creating super-glossy locks by washing with Nutrition and Shine shampoo from the Hydra Therapy range. Dry carefully, then backcomb the roots at the crown. Gather your lengths at the nape of the neck and create a low ponytail, securing with a hair tie. Next, fold your headscarf into the necessary shape, then place on top of your style at the front near your forehead. Complete the look with a veil of hairspray.
This article inspired you?
Take action and find your salon