Hairpins and clips: the 4 must-haves
As any seasoned fashionista knows, you must always have these 4 hairpins and clips in your bathroom to get hairstyles that hold to perfection. However, there are a few tips to be had on how to choose the right ones and how to use them for optimum effect.
U-shaped wide grip bobby pins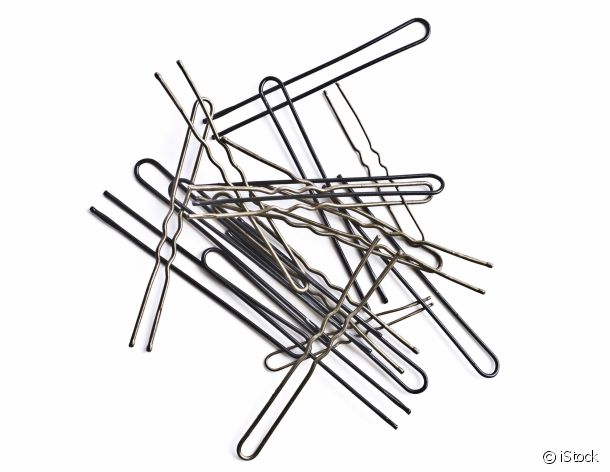 These essential hairgrips are used for holding chignons and side braids in place. They have two straight or wavy prongs to hook onto your locks. Their U shape makes them ideal for sticking into foam donuts or straight into your hair.
How do you go about choosing the right type?
Always opt for hair grips with protected tips (round plastic ends) as they are less painful and less damaging for the scalp and the hair fibre in the long term. The size you should opt for depends on your hair type: choose long ones to hold the weight of thick hair and short ones if your locks are fine or have been recently washed (so they are silky and slippery). The small ones are ideal for an invisible finish, as they blend right into your hair.
Advice. To get your U-shaped bun pin to hold, put the hairpin in going in the opposite direction to the section you wish to hold in place, so that the strands hold at the roots. This backwards movement will ensure that your hairstyle holds securely.
Flat top/waved bobby pins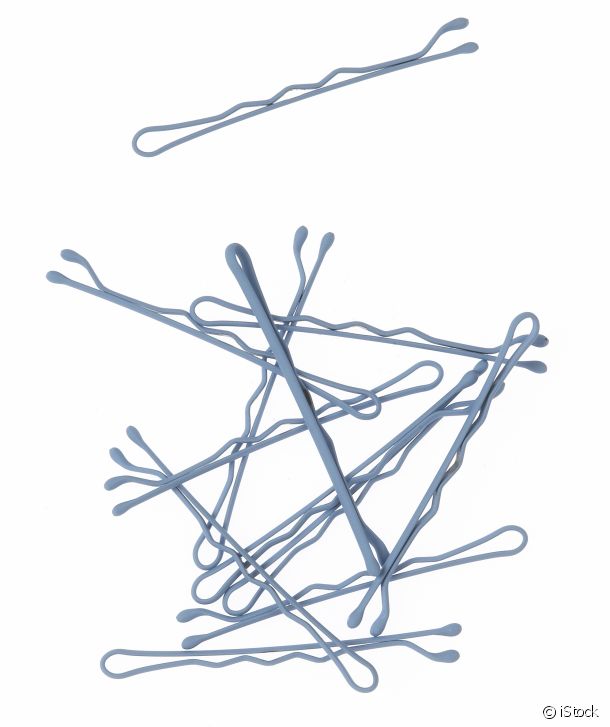 Another staple hairstyling accessory is the Kirby grip. They come in two shapes: those which have two flat prongs and those with a flat/wavy prong combo to better grip straight hair. Place the wavy side underneath the section you wish to hold for an impeccably sleek finish. These hairpins are perfect for taming any unruly strands or a fringe, and are ideal for holding sections of elaborate hairstyles in place.
How do you go about choosing the right pins?
For a discreet up-do, match the colour of the hairpins to your hair colour. However, opt for coloured hairpins if you wish to try out the bobby pin trend, using them as a statement hairstyling accessory.
As for size, the largest ones tend to be the most popular. However, smaller bobby pins suit fine short hair best.
Advice. Cross two over to reinforce their hold.
Hair claws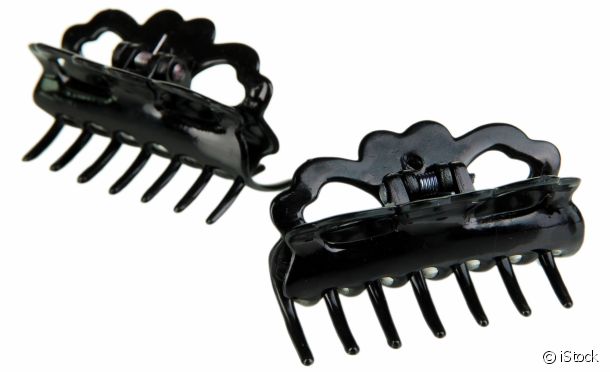 They owe their name to the teeth which grip the hair, holding it in the body of the clip. Extremely practical, they suit all lengths and thicknesses of hair as they come in different sizes and with varying amounts of teeth.
How do you go about choosing the right hair claw?
The mini version, either colourful or glittery, can be worn in several different ways as an accessory for a braid or a Bohemian chignon. If you have thick hair, opt for an XXL hair claw with wide teeth. However, average-sized hair claws with fine close-together teeth are suited to fine hair. To a section in place or to keep your fringe held back, go for a smaller claw.
Advice. All you need to do is clasp an XXL hair claw around your whole head of hair to create a pin-free banana chignon.
Pelican/alligator hair clip
Alligator hair clips are also known as pelican clips, as their shape resembles that of a pelican's beak. They are ideal for styling your whole head of hair with a single clip! Easy to use, they effortlessly gather your hair together into a loose ponytail or a sophisticated banana chignon.
How do you go about choosing the right clip?
Meant for mid-length to long hair, the standard size pelican clip (around 10 cm) holds all of your hair between its two pincers. Much rarer, its miniature version (3cm) suits short hair and is for holding smaller sections. It can also be worn as a decorative accessory, in a retro chignon, for example.
Advice. Where the two pincers have small teeth for gripping unruly hair, this style of clip is known as an alligator clip, as it looks similar to an alligator's jaw.
This article inspired you?
Take action and find your salon
The essentials

of the season