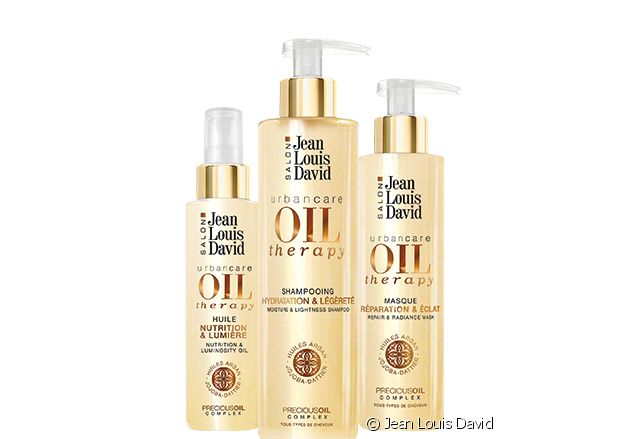 This article inspired you?
Take action and find your salon
Hair care
A closer look at Jean Louis David's Oil Therapy Range
To keep your hair in tip-top condition all year round, use Jean Louis David's Oil Therapy range. A full treatment programme which is extremely nourishing for the hair! We take a closer look.
To nourish your hair without unnecessarily weighing it down, Jean Louis David brings you the Oil Therapy range. An exclusive in-salon range which takes advantage of a trio of treatments made up of a shampoo, mask and hair oil. You can also use products at home to hold onto their beneficial effects.
A complete formulation which suits all hair types
At the heart of this hair range is the Precious Oil Complex made up of three precious oils:
– Argan oil: it repairs and protects your hair from day to day with its antioxidant properties.
– Jojoba oil: an active ingredient which hydrates the hair fibre and rebalances the scalp whilst preventing greasy roots.
– Desert date palm oil: it deeply repairs and strengthens the hair wash after wash to prevent breakage.
A unique blend with an addictive fruity amber-like fragrance!
How should use Oil Therapy treatments be used?
You have several options when it comes to using the 3 products from the range in conjunction with one another. At home, start off your regime either by using hair oil to nourish the hair fibre before washing, or directly by using Moisture & Lightness shampoo. In this case, lather up a small amount of product by massaging the scalp to cleanse it. Then rinse your hair thoroughly to rid it of any impurities: the key for adding softness and shine! On squeezed-out hair, continue the regime with the Repair and Radiance Mask, enriched with pearl extract which strengthens the hair fibre whilst restoring its shine. Leave it to soak in for 5 minutes before detangling your locks. After a final rinse, spray Nutrition and Luminosity Oil onto your squeezed-out or dry locks and tips. The treatment will help to get rid of frizz and will strengthen your locks before you move on to styling.
This article inspired you?
Take action and find your salon