Wedding hairstyles: 3 chignon ideas for long hair
One thing's for sure: on the big day, you wish to tie up your long hair! But you are still looking for the perfect hairstyle… We have found for you 3 chignon ideas for either a bohemian, sophisticated or a more retro look.
The twisted chignon for a romantic hairstyle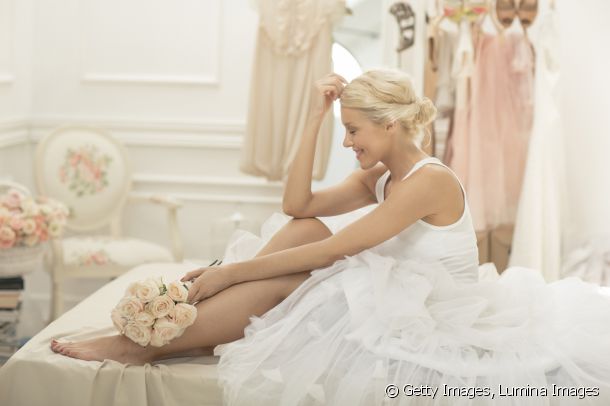 If you wish to have a simple and relaxed look without losing an ounce of elegance, go for the twisted chignon: it will give you a highly fashionable bohemian look. Its main asset? It is easy and quick to create, even by yourself. To achieve this look, work with clean, untangled hair. Mark out a clear middle parting using a fine comb. Then separate out two relatively thick strands at the front, on each side of your parting.
Gather the rest of your hair at the nape of your neck, then form a low, floaty chignon. Now focus on the two front strands. Twist the first one by wrapping it in on itself. Then tie it into your chignon using flat hairpins. Repeat this with the second strand. To finish, apply hairspray for maximum hold. Feel free to lightly pull on your bun to obtain a messy-styled effect whilst still creating that bohemian look.
The ballerina bun for an elegant style
Both classic and on trend, the ballerina bun is a perfect hairstyle if you dream of having a princess wedding. With this look, you can't go wrong! It adapts to all styles, keeps the hair out of your face and enhances a sophisticated dress, whilst toning down elaborate make-up.
To create this sophisticated hairstyle, first of all tie up your hair into a low sleek ponytail. Use a flat brush to flatten down your roots. Consider tightening your tied-up hairstyle before forming the bun. Twist your hair in on itself, before wrapping it around your hair tie. Fix it with as many hair pins as you require, then apply hairspray.
The banana chignon for a retro-chic look
The banana chignon is the star of wedding hairstyles. Inspired by the 50s, it is both elegant and sophisticated. You are bound to love its retro side which goes perfectly with several different styles. The only requisite: you need a minimum length of hair to create this look (at least shoulder length).
To achieve this style, gather your hair as if you were forming a low ponytail. Twist your hair before lifting it up to the top of your head. Flatten your hair down onto your head with hairpins and fix it all with hairspray. To adapt the hairstyle to suit you, personalise it with your favourite accessories: a hair comb, flowers or even pearl hair jewellery.
To create this look with even more precision, take a look at our tutorial on how to create this chignon to perfection.
This article inspired you?
Take action and find your salon
The essentials

of the season