The trend: four hippie looks for summer 2017
A few braids, a messy-styled effect and wavy locks: the hippie attitude only holds a few strands! This summer, go for a bohemian look with one of these 4 easy-to-create hairstyle ideas.
Faux braided side-swept hair
You cannot beat the loose locks-braids combo to adopt this style. Here, the locks are effortlessly styled to one side to add character and to give you a rebellious look. To create this hairstyle, mark out a side parting. Twist the section of hair with less volume, on the opposite side to the movement you have created, to hold it back without tying it up and to give the illusion of side-swept hair. Adorn the rest of your locks with 3 strands of mini braids and there you have it!
A floral headband & wavy locks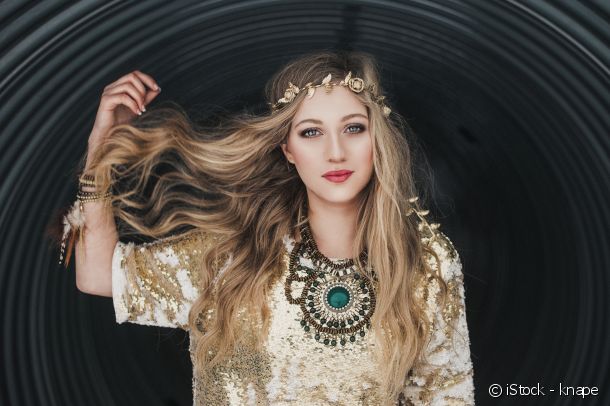 As summery as can be, wavy locks look extremely bohemian when coupled with a headband, an emblematic accessory of the hippie look. To successfully create this hairstyle, you simply need to work with your locks using curling tongs to create a wavy effect . Perfect for showing off XXL locks. Here, the jewellery-style hairband accessory enhances the hairstyle with its simple yet elegant golden flowers. Try out different hairstyles by choosing your favourite fantasy look: flowers, feathers, pearls or mixing & matching accessories for an irresistible finish.
The crimped half-up half-down hairstyle
The 70's hippie style is getting a whole new look with crimped hair , which is much easier to create than dreadlocks . Play with your hair's texture by clasping your strands in between the crimper for a few seconds. To give your hair volume, start at the roots for some strands and for others begin further down, without it becoming too difficult to tame. Then, braid a section of hair to frame your face and bring it over your forehead in a braided headband style. Fix it using a hairpin at the back of the hairstyle, giving it volume on top for a finishing touch.
Floaty chignon
There's no need to be a styling pro to successfully create this pretty floaty chignon. Opt for this ultra-messy version, which is perfect for mid-length bobs . Get your hands on a few flat hairpins and cross the front section of hair over your forehead in a loose manner to gently frame your face. Then gather your short strands one by one on one side of the hairstyle and fix them using hairpins to form the floaty chignon. If your hair is longer, simply incorporate more accessories!
This article inspired you?
Take action and find your salon
The essentials

of the season