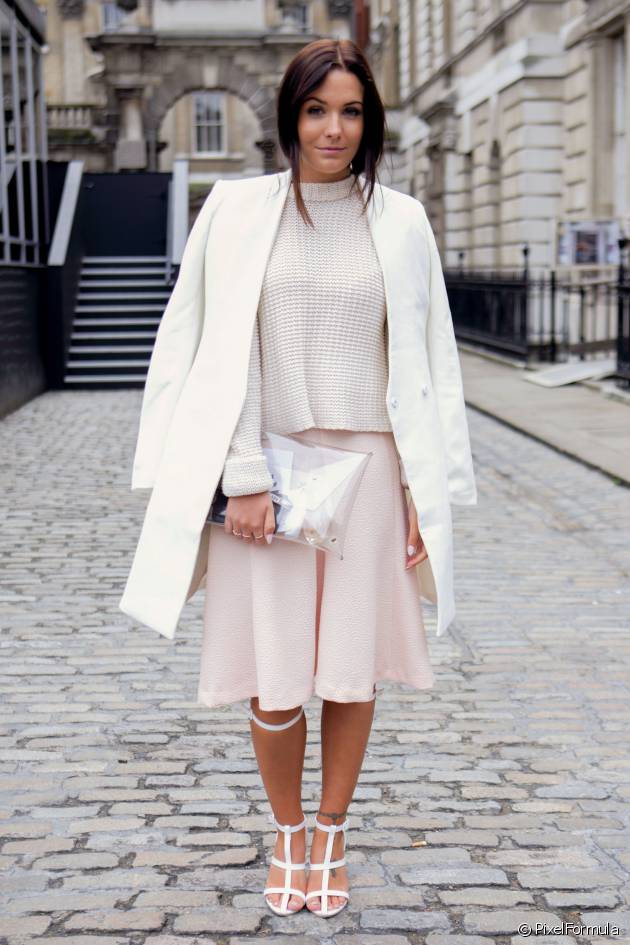 This article inspired you?
Take action and find your salon
Styles and trends
[Streetstyle] Create a faux A-line bob
Our Streetstyle model of the day looks great with her simple and sophisticated style. Feel free to pinch some of her ideas! We take a closer look.
A perfectly created faux bob
Our Streetstyle model has long and thick hair. Today, she has decided to tie it up into a faux bob to change her style. To achieve this look, she has first of all, marked out a clear middle parting . She has then tied her hair into a low, relatively loose ponytail at the nape of her neck so that her locks frame her face. Finally, she has left a few strands loose at the front so they seem longer than the rest of her hair. The result? Front on, she has created the perfect illusion of an A-line bob! As a result, she has found the perfect way to show off this haircut which is still on trend in 2016, notably with mid-length hair .
A sophisticated and feminine outfit
Regarding her outfit, our Streetstyle model masters all fashion trends, as shown by her flawless look! Her outfit is both urban and sophisticated and is made up of a knitted jumper and a high-waisted flared skirt. To keep warm, she is also wearing an XXL blazer on her shoulders, reinforcing the elegant side to the whole outfit. For all of her garments, she has opted for light colours which enhance her tanned complexion in a remarkable way. As for accessories, our Streetstyle model has played the simplicity card with a transparent clutch bag, fine jewellery and white strappy sandals.
Elaborate yet discreet make-up
Our Streetstyle model has opted for make-up which 100% suits her complexion and her brown hair . She has firstly unified her skin with a tone-on-tone foundation. Then she has created a brown and gold smoky-eyes effect, which perfectly suits her chocolate coloured hair. She has then applied nude lipstick with pink tones, before brightening up her complexion with a hint of orange blusher on her cheeks. The final result is a real success, highlighting her pretty features to perfection.
This article inspired you?
Take action and find your salon