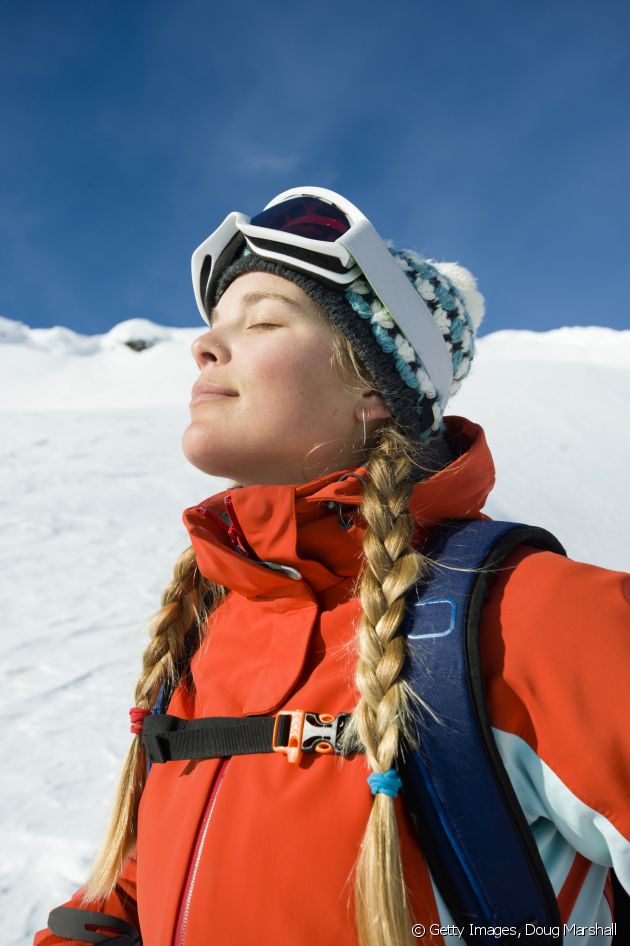 This article inspired you?
Take action and find your salon
Special occasion hairstyles
Staying well styled on the slopes
Make way for powder snow, the luge, blue, red and black pistes… and perfectly styled hair no matter what.
You are the queen of the slopes… except that your hair is dry and frizzy due to the cold and humidity. Before you head off on your holidays, pop these into your suitcase -shampoo enriched with plant oils, conditioner and/or a mask rich in proteins to repair and protect the hair fibre. One tip is to rinse off any treatments with a final blast of cold water in order to close the hair cuticles and to reduce static electricity – a very common reaction to thermal shock. This will help make your hair look shinier.
Fishtail, classic and African braids…
Forget half ponytails or wearing your hair down. On the luge, snowboarding or skiing, you will be able to see the pistes much more clearly if your hair is completely tied back. Amongst the hairstyles you should try out is the braid (fishtail, Dutch, etc.), which is perfect for protecting your locks from the cold . You have several braiding options:
● a side braid if your hair is long enough to not go in your eyes on every bend
● a braid-fabric hairband combo to add a touch of sophistication to the hairstyle
● a fishtail braid to give a twist to the classic braid
Professional advice
Before braiding your locks, give your hair a once over with an ionic brush to tame any static electricity. Apply hairspray and then start braiding from the base of the nape for more comfort if you are going to wear a helmet. Say goodbye to hairpins and hair slides because they could fall out or get on your nerves.
The high or low ponytail
Simple and effective, this is the perfect quick-to-create hairstyle for mornings when you have to wake up early. Brush your locks, spread a small amount of oil all over to nourish them and tie up your hair into a high or low ponytail, depending on the hat or headband you will be wearing. If you have natural waves, use styling mousse specifically designed to enhance your locks before tying them up.
Professional advice
With the strength of the wind, your locks get easily tangled . To combat knots, tuck your hair inside your scarf when you go down the pistes. This will allow you to protect your tips from the drying effects of the cold.
You are now ready to hit the slopes!
This article inspired you?
Take action and find your salon