Red hair colouring: a closer look at different shades of red
Intense and vibrant, soft and light-catching, orange or enhanced with purple highlights… Red hair has multiple sides to it, just like the wide range of brown and blond shades out there. But whatever you do, don't go red before you've found the perfect shade to enhance your features. Follow this guide on the different shades available for a shade of red to suit you, without going wrong!
Red hair colouring: strawberry blond for pale or dark skin tones
Contrary to what its name would have you believe, this shade that is partway between red and blond is actually a shade of red, the lightest one. Different and extremely rare, it has copper and golden highlights which give character to the colour. Perfect for enhancing milky and extremely pale skin tones, strawberry blond also suits tanned complexions and creates a harmonious result.
Why choose this colour?
Brought into the spotlight by actress Rita Hayworth at the start of her career, it is a shade of red with a mysterious aura which makes women look irresistible!
How can you get this shade?
Easier to adopt on a light to chestnut brown base than on dark hair, this soft understated shade of red can at best be achieved via a standard colouring treatment, whereas brunettes will need to bleach their hair to lighten it to reach this subtle colour. As for natural redheads, honey highlights are enough to transform their colour.
Red hair colouring: light red for pale to golden complexions
Similar to strawberry blond, this shade is just as light-catching but it contains more orangey shades, like Gaelic red, although light red has soft copper highlights.
Why choose this colour?
Made famous by actress Lucille Ball, this shade of red allows women to subtly affirm their character.
How can you get this shade?
It is ideal for blonds who wish to go red easily with a shade similar to their base, so that they can revert to their original colour without a problem. It is also advantageous for blonds as it goes perfectly with fair to golden complexions. However, it creates too stark a contrast for dark complexions to be able to achieve a harmonious result.
Brunettes need not feel disappointed, as overly bleaching dark hair to reach this shade would seriously damage the locks in any case!
Red hair colouring: copper red for fair skin
This shade of medium red is stronger than strawberry blond, but it is less intense and vibrant than Gaelic red.
Why choose this colour?
Made famous by the Hollywood star Bette Davis, this colour, which has soft and vibrant elements, is a dream shade for becoming a redhead without any regrets. Extremely easy to wear, copper red showcases orange highlights blended into a chestnut brown base for a sophisticated and elegant result.
How can you get this shade?
Perfect for lighting up brown hair, this subtly flamboyant shade is achieved via intense highlights which enhance your original colour. The technique differs for blonds, as a full coverage colouring treatment is required to get these pretty copper shades. In certain cases, colourists have to darken extremely light bases to be able to reach copper red. A long process which is worth it for enhancing fair to golden skin tones and blue-green or hazel eyes. However, if you have a dark complexion, forget copper: it will mean too much effort and clash with your complexion.
Red hair colouring: Gaelic red for fair skin tones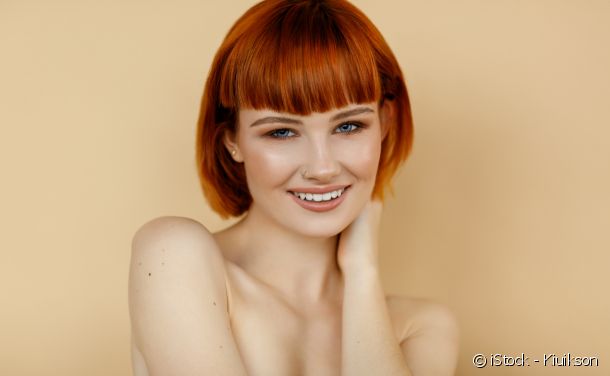 This is the reddest of all reds, carrot red par excellence. It was renamed Gaelic red due to the high population of redheads sporting this rare shade in Gaelic parts of the world. Neither light nor dark, this medium shade of red is more orange and it is a vibrant colour reserved for daring women who fully embrace its striking side.
Why choose this colour?
Embodied to perfection by Jane Russell, this vibrant shade, which adds plenty of character to your locks, unfortunately does not suit everyone. Although it enhances porcelain skin tones beautifully and it makes blue and green eyes look more intense, it does not suit dark skin tones one bit. If you have a dark complexion, you should avoid this colour so that your new shade of red does not look too artificial.
How can you get this shade?
You can easily get Gaelic red thanks to a colouring treatment in light to chestnut brown hair but in dark hair, it requires a strong level of bleaching beforehand, which would damage your locks. Take note brunettes, and choose another shade!
Red hair colouring: flaming red for fair skin
As vibrant as Gaelic red, flaming red differs from it due to its red hot highlights which verge more on red than orange.
Why choose this colour?
Extreme and striking, this purple shade of red is perfect for those who wish to stand out from the crowd and want an extremely glamorous look, Maureen O'Hara style. One thing to mention about this femme fatale shade is that it works best if you have a fair complexion. This dark shade of red particularly flatters porcelain skin tones. However, it does not look as naturally harmonious with dark complexions. Nevertheless, you can rest assured that your colourist will adapt this shade to suit your skin tone by injecting a few discreet copper highlights.
How can you get this shade?
To get this colour, you just need a blonde to light brown base and a hair colouring treatment. However, becoming a redhead with this shade will be a much more complicated process for brunettes. They have no other choice but to bleach their hair beforehand to reveal the intensity of their new red colour.
Red hair colouring: mahogany for pale to dark skin tones
Extremely similar to copper red, mahogany stands out with its flamboyant red highlights which add to the orange and brown shades of copper, to create an intense deep red.
Why choose this colour?
A daring and seductive shade, it is perfect for women with a strong character such as Sophia Loren who made it famous.
How can you get this shade?
Achievable on all bases, this shade is actually easier to reach on a brown base. A balayage with purple and copper highlights enables you to achieve the perfect result. On a blonde base, only a colouring treatment can achieve a mahogany shade. Good news: thanks to its perfect balance of three warm tones, mahogany also enhances tanned or dark skin tones, as well as golden or reddish complexions. It also makes every eye colour pop, enhancing your eyes to perfection. There are so many great reasons why you should go for this shade!
Red hair colouring: brown-red for pale to dark skin tones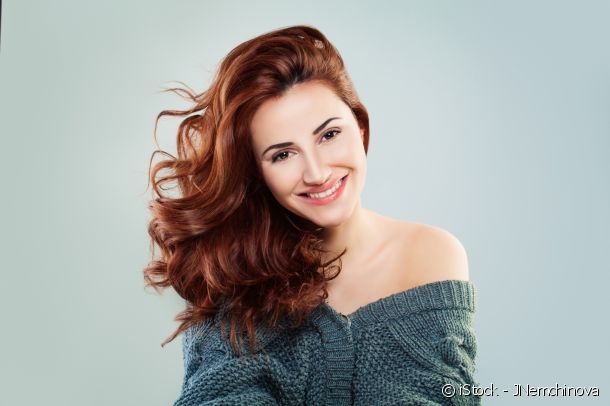 This is the ideal red for brunettes which, as its name suggests, is a hybrid shade between brown and red.
Why choose this colour?
It is the perfect alternative to a strong vibrant red for those who are unsure whether to take the plunge. Brown-red allows you to become a redhead by adding copper, vibrant red or purple highlights to your base. Shades which give your locks a new look and which should be chosen with great care depending on your complexion and your original colour to enhance it and give it more depth.
How can you get this shade?
With a simple balayage for a subtle, natural result or with a full coverage colouring treatment for a bolder look. There are many different ways to rock red-brown, it is just finding the perfect one to suit you!
Red hair colouring: auburn for pale to dark complexions
Similar to red-brown and rich in red highlights, like flaming red, auburn is darker than flaming red and mahogany. It is a brunette base with a twist of red and purple shades, also known as dark red in common parlance.
Why choose this colour?
Worn by Susan Hayward during the golden age of Hollywood cinema, this brown-red shade is timeless and very easy to adopt, making it the perfect shade for reserved ladies who wish to become redheads without going over the top. Accessible for both brunettes and blonds, auburn is particularly flattering for pale complexions, as it warms them up and enhances them to perfection. It is also one of those rare variations of red which can also enhance dark skin tones!
How can you get this shade?
There is only one way to go auburn, whether you are a blonde, brunette or a redhead: a colouring treatment. And if you have black hair you will need to lighten your base beforehand by bleaching your locks before colouring them with coppery red highlights.
This article inspired you?
Take action and find your salon