How can I create the wet look chignon from the Céline Fashion Show?
This low and elegant chignon has been spotted at the Céline Spring-Summer 2016 Fashion Show during Paris Fashion Week. It perfectly keeps the models' hair out of their faces, shows off their on-trend accessories in the best possible way and gives them a highly sophisticated look. It's a real must-have style! Learn how you can recreate it step by step.
The wet look chignon
• Step 1: prepare your hair. Wash it with Moisture and Lightness shampoo from the Oil Therapy range. You will add maximum shine to your hair whilst reinforcing the hair fibre. Carefully wring out your hair with a towel and then untangle it with a flat brush.
• Step 2: form your chignon. Gather your hair at the nape of your neck, without marking out a parting. Consider flattening your hair down with a brush before tying it up into a low ponytail. Then twist your hair and wrap it around itself to create your chignon. Hold it with as many hairpins as you require.
• Step 3: finish off your hairstyle. Warm up a small amount of Design Gel in your hands, then spread it evenly over your roots. You will obtain the desired wet look effect as your roots will have a shiny finish, as if they were slightly damp. To finish, apply hairspray for flawless hold for hours.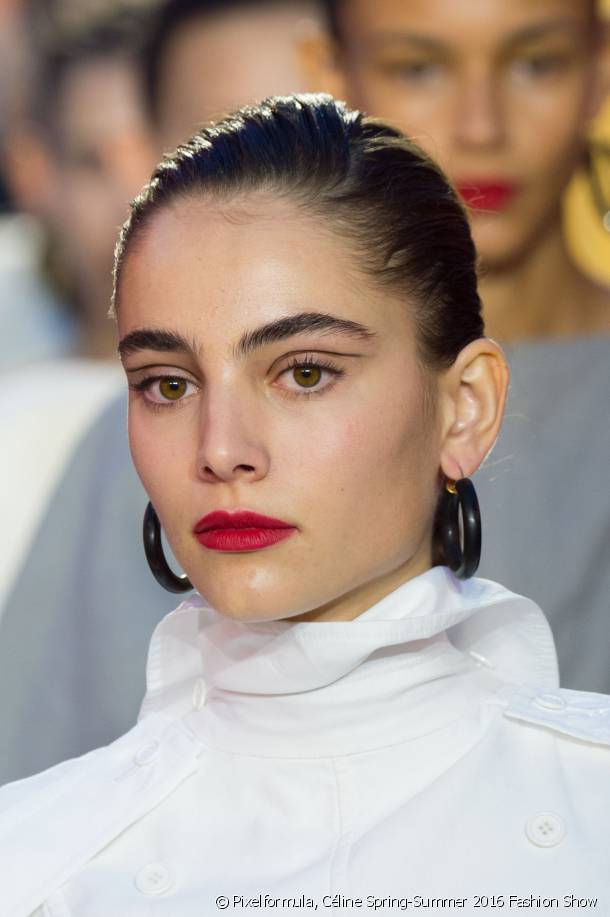 Combine with which style?
Be inspired by the fashion show and opt for both a feminine outfit and make-up. On the catwalk, the models wore simple fashion pieces with feminine cuts. As for make-up, they had matt red lipstick, rich in colour. Conversely, their eyes were discreetly highlighted with black mascara. A perfect beauty look for an evening out with friends!
This article inspired you?
Take action and find your salon
The essentials

of the season