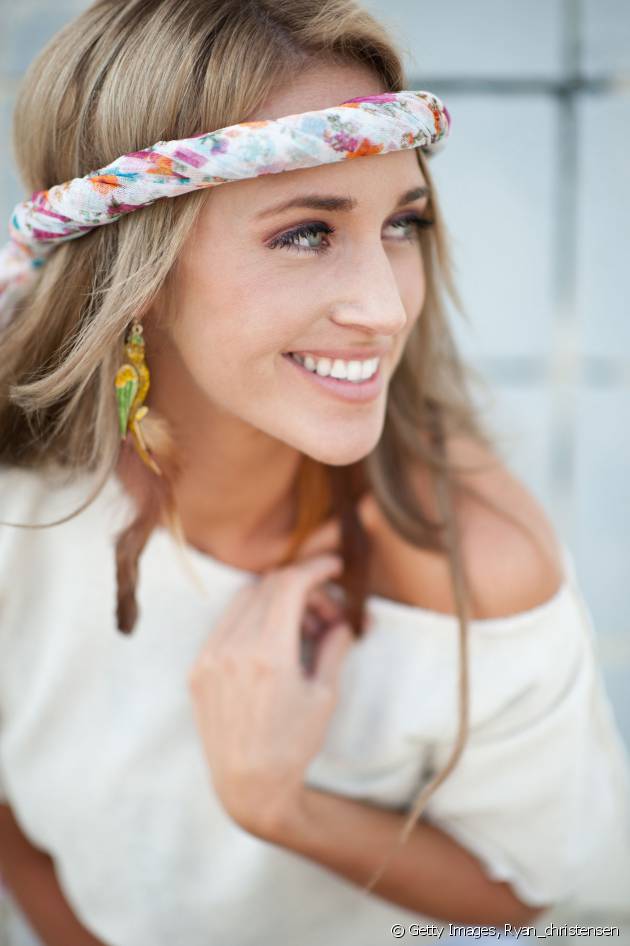 This article inspired you?
Take action and find your salon
Styles and trends
3 on trend ways to tie a scarf in your hair
Whether you have long, mid-length or short hair, the scarf is a perfect accessory for personalising your hairstyle. Tied in a classic way, knotted as a bandeau or rolled up as a headband, it boosts any look in a few seconds!
1. A classic version for a Coachella look
Do you wish to change your look without tying up your hair? Play the boho-chic card by using a scarf-one of the must-have hair accessories for enhancing your hairstyle . The perfect style scarf? A square one with coloured fabric, either a block colour or patterned. It can be silk or fabric according to the effect you wish to create. As for the technique, it's quite simple: you just need to cover your forehead and tie the fabric at the back of your head. A simple hairstyle particularly recommended for long, wavy hair.
If your locks are straight, feel free to lightly curl them using curling tongs. You can even create a pretty fishtail braid to accentuate the look. Hairspray to make your hair shine, a few necklaces… you're ready for the next festival!
2. A tied-up bandeau hairstyle for a pin-up look
Do you wish to enhance your tied-up hair with a scarf ? Tied up as a bandeau, it will give you a pin-up look in a few seconds. To create this style, it's ultra-simple: start by folding your square fabric scarf to form a strip. Once you have tied up your hair into a high ponytail (ideal for this hairstyle), place the widest part of the scarf at the nape of your neck and tie the strip at the top of your head.
Our tip: leave the ends of the scarf visible by tying them in a knot. If you have fallen in love with a pixie crop or a bob, this style will also work. The advantage of this hairstyle is it keeps the hair of your face, whilst adding character to your look. The best style scarf? Patterned for a pretty finish once folded.
3. A rolled scarf headband for a modern look
As you probably already know, the headband has been an essential look for several seasons… We can use it to make a low chignon more sophisticated or to add a touch of spring to a hairstyle.
Start by folding the fabric, as you would to create a bandeau. Then, twist it and tie it. One piece of advice: preferably opt for a silk scarf, you will find it much easier to roll. When it comes to styling, simply place it like a crown so it comes down to the middle of your forehead. Also, leave a few strands loose to frame your face.
Do you want some inspiration? Discover these on trend accessories of Spring 2016 !
This article inspired you?
Take action and find your salon