Trend: what hairstyles go with ear cuffs?
Side-swept hair, banana chignons or wavy half-ponytails… Take a closer look at these three hairstyles which will showcase your ear cuffs, the latest earring trend.
Just like the bandana, ear cuffs were already being hyped up in the 80s. Back then, they were just a hoop, trimmed with a small chain. Thirty years later and they have made a comeback as the IT-accessory for fashion shows. Worn on the red carpet by Rihanna, Cara Delevingne and Miley Cyrus, ear cuffs still appeal. Available in different styles, from luxury to costume jewellery to rustic and rock 'n' roll, they can be extra large and set off your hairstyle.
Side-swept hair
Worn in just one ear or mismatched, ear cuffs go extremely well with side-swept hair: an extremely easy hairstyle to create! Mark out a side parting and flatten down a section of hair towards the back. Depending on the desired result, there are a few different variations. To recreate the beach hair look, applying mousse or gel is enough to control big hair and frizz. Tuck a few strands behind the ear cuff and fix them in place with hair slides or flat hair pins. To curl straight hair or to straighten curly locks, take the time to work with all of your hair, including the section tucked behind your ear. This takes a while longer but it is essential to create a hairstyle with an even finish.
The banana chignon
How about giving your mainstream banana chignon a rock chick look with ear cuffs? This is a nice way to add a twist to this hairstyle and to make it more modern. To successfully create this look, take a look at this article. In four steps and in less than 5 minutes, it shows you how to create a retro chignon.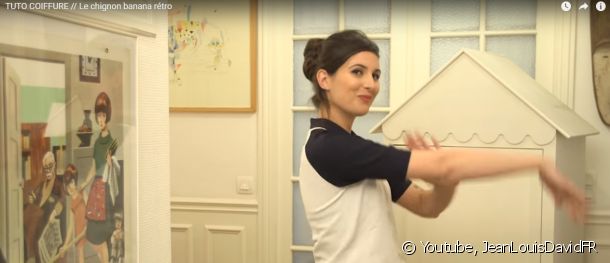 The wavy half-ponytail
Revisited with the Bohemian hairstyle trend, the wavy half-ponytail allows you to show off an extra large ear cuff in a subtle way. The waves (natural or created using heated tongs) give a floaty touch to the whole look. Let a few strands frame your face and your ear cuff will blend nicely into your hairstyle. This is a great tip which means that you can wear this piece of jewellery both for daytime and by night.
This article inspired you?
Take action and find your salon
The essentials

of the season