Men: which haircut goes with which style of beard?
If there's an attribute which gives a man charisma, it's definitely a beard. Provided that it is taken care of, neatened or trimmed regularly and, perhaps the most difficult part, that it suits your hairstyle. Your beard should express your style to perfection. Take a look at the following combos which are the height of fashion.
Combo no. 1: the 3-day beard and short hair
You don't like the clean-shaven look, nor do you want a beard which is too prominent or gets in the way. A length of 3-4 mm, which corresponds to three days' growth, seems like the perfect compromise. As for the haircut, for a styled look go for a haircut which is short around the sides with plenty of substance on top. A perfect compromise for keeping the balance between the upper and lower parts of the face.
To style your hair, use a wet-look gel for maximum shine and sculpt the front section back but slightly to one side. Use your fingers to keep the volume in and to accentuate a wavy effect, or use a comb for a completely slicked-back look.
Combo no. 2: The mid-length beard and undercut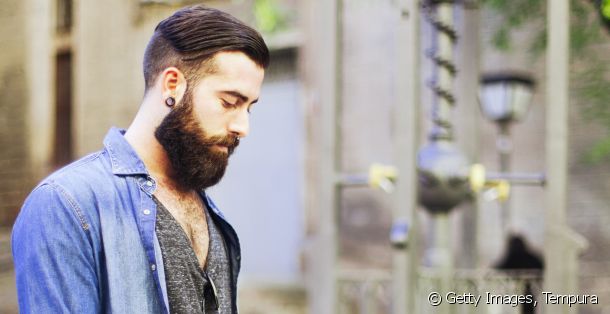 If you have opted for a beard which is ten centimetres or so in length, go for an alternative haircut such as the undercut. This consists of completely shaving the lower sections and temples whilst keeping the length on the top. This hairstyle allows you to add structure to a messy-styled look, or alternatively, create a slicked-back side-swept effect.
To quickly and easily create this hairstyle, use a wet-look gel and a wide-tooth comb to avoid the poker straight look. Combining the two gives you a daring but highly on-trend style.
Combo no. 3: A long beard and mid-length hair
Final option: a thick long beard for a hipster look. If you are tempted by the previous hairstyle and you think it could suit you, go one step further with the mid-length haircut with hair that goes down to your jawline.
After having washed your locks, brush them towards the back and leave them to dry naturally. This allows you to fix your hair in the right position. If you are short on time, use a hairdryer and a hairbrush to give your hair more volume. Once you have finished this final step, sculpt your hairstyle with matt wax for a totally natural effect. Just a small amount so as to not to weigh your hair down.
This article inspired you?
Take action and find your salon
The essentials

of the season