Fringe
Fringes take centre stage for spring-summer 2020
Now more than ever before, Jean Louis David is shining a light on the style power of the fringe with his spring-summer 2020 Crazy about JLD collection. Loathed by some and adored by others, this summer the JLD take on the fringe could well appeal to everyone. Thick yet slightly tapered, or long with a hardcore rock chick vibe – find the fringe to win you over!
The super smooth fringe with a rock chick vibe
If you're a fan of structured looks with just a touch of rock 'n' roll, you're sure to love this heavy fringe that's tapered enough to lend it some nice movement. Worn with a nice layered cut like this one – Jean Louis David's take on the ubiquitous style of the 90s – your fringe will have a wild touch whilst still looking elegant. It works especially well on hair with a light contrast in colour, so it could be a good opportunity for you to try out the flagship lightening treatments of the JLD spring-summer 2020 collection: Contrast and Sunlight.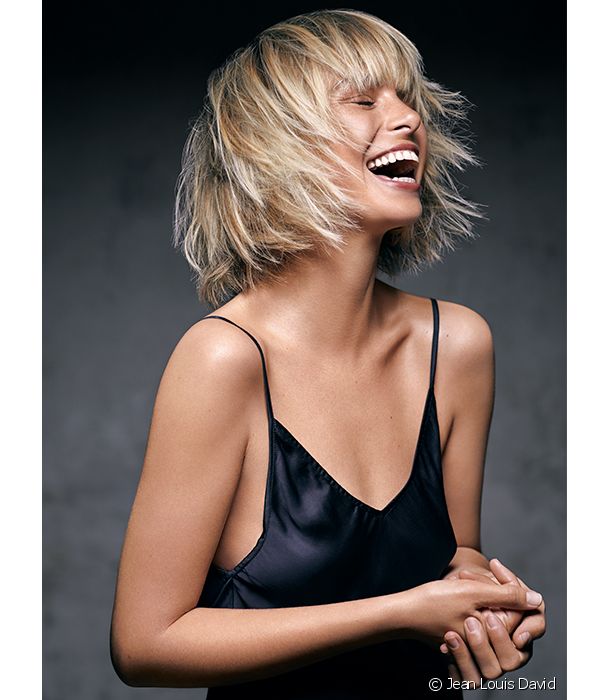 The tapered fringe on a mullet
Look out – the 70s mullet is back, and it's lost none of its rock 'n' roll spirit! Back in the day, the most seasoned female punks sported this look with style and personality. Now it's back, much to the delight of those wanting to stand out with a unique trendy look. Here, the fringe is thick, long and full of contrast thanks to a few skilfully tapered strands. Depending on what you're going for, you can try the Neo-Bowie look, styled towards the front strand by strand with volume built up at the roots, or smooth the hair down with straighteners whilst still retaining a little volume. Either way, to hold your style in place, spritz on a fine mist of Jean Louis David GO Style Fix Spray.
Why not go for a curly fringe?
We tend to naturally associate fringes with straight hair. But that's where we're wrong! Curly hair with a fringe is a sure-fire way to get a unique look that's really hot right now. It just needs to be done right.
If you're coupling a fringe with a mullet, go for tight curls created with narrow curling tongs. Remember to keep your look slightly messy whilst leaving your lengths relaxed. Perhaps you want to hold onto this look for as long as possible? Then head to your local Jean Louis David salon and ask to try out the exclusive Smoothing treatment that will hold your style in place for up to 6 weeks!
If you prefer to rock your curls with layers, we recommend adding movement to your hair strand by strand by applying Jean Louis David Go Style Mousse with your fingers. That way you'll get a more flexible, natural-looking finish.