Before/After: floaty curls from the Style Bar
Paris, a spur of the moment dinner and less than an hour to get ready. Claire, 26 years old, has thought of an effective solution by making use of the Jean Louis David Style Bar service. The concept? Get your hair styled in 15 minutes for 15 euros. A safe bet for a quick transformation.
The first advantage of the Style Bar is that you don't need to make an appointment – perfect for Claire and her last minute hairstyle. The only piece of advice: come in with clean hair or hair washed the day before (perfect for making your hairstyle hold).
When she arrives, Claire is greeted and shown to a seat where she can browse the collection. She has an initial discussion with her hairdresser who shows her the looks on offer. The verdict? She opts for floaty soft curls to make a change from her straight locks.
Preparing the hair
To texturise the hair and to make styling easier, dry shampoo is applied all over. Using a towel, the hairdresser tones down the matt effect created by the product. A professional tip which also absorbs excess sebum. Then, the hairdresser gives movement to the hair with a side parting, chosen by Claire.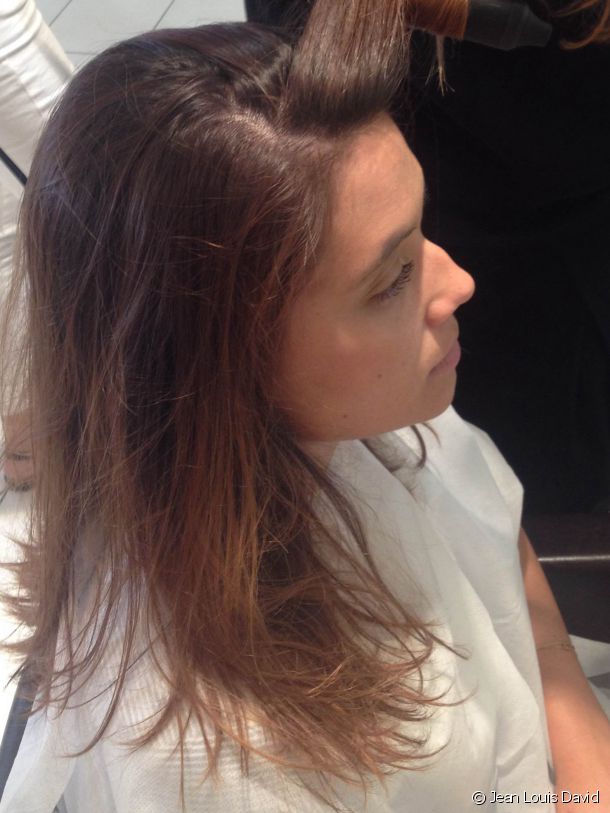 Creating curls
Claire's hairdresser selects a relatively thick strand at the front of the head. She applies Fix Spray (Jean Louis David's own hairspray product) and combs from the roots down to the tips. Two advantages of doing this: the hair is detangled and the product is better spread out. The strand is then wrapped around a curling tong for around 10 seconds before being released. This is repeated all over.
The floaty effect
To loosen up ringlets, the hairdresser asks Claire to put her head forward. The hairdresser places her fingers at the roots and shakes the hair. An effective technique for maximising the volume without breaking up the curls. To finish, the hairdresser applies Shine Spray (to make the hair shine) 20cm away from Claire's hair to avoid making it wet. Then, she finishes off the look with hairspray for flawless hold.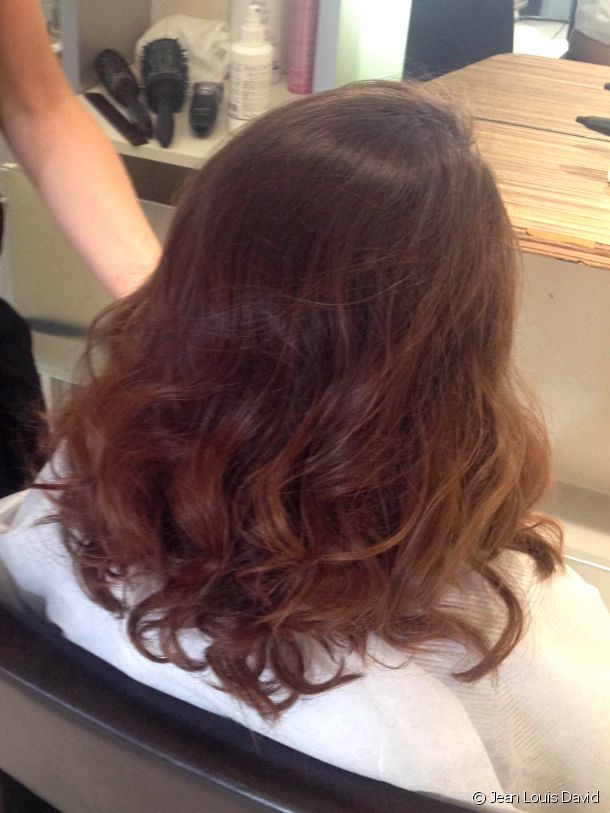 The result?
Claire leaves extremely satisfied with her look. Her curls look floaty, natural and well-defined. Feel free to also try out this exclusive service.
This article inspired you?
Take action and find your salon
The essentials

of the season