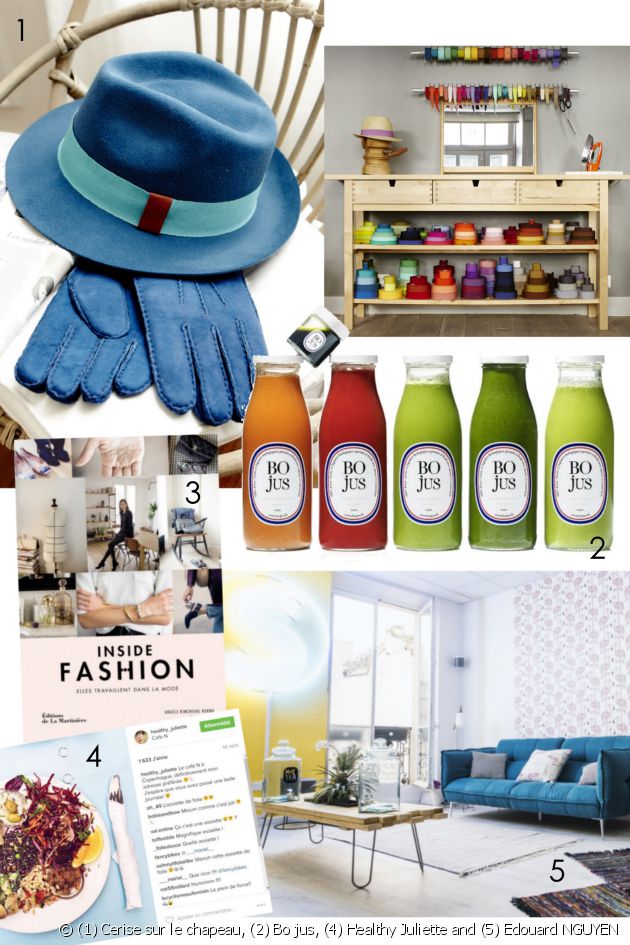 This article inspired you?
Take action and find your salon
News
Urban list: our October favourites
1. La cerise sur le chapeau
Located in the VIth arrondissement of Paris, this workshop-boutique is hat central. Felt hats or panamas, men's or women's styles, conservative or colourful designs… These hats, made in-house, are the product of real expertise. Material, colour, size… You can even go for a bespoke design. You can find all this (no appointment needed) at 11, rue Cassette, 75006 Paris or on their website: http://www.lacerisesurlechapeau.com
2. Bo jus
With its range of cold pressed 100 % organic juices and their recyclable Made in France packaging, The Bo Jus team puts quality before anything else. Drink the juices as a course to get your vitamin fix! You can find them at Labo Bo Jus, 6 rue de Montmorency 75003 Paris or online: http://bojus.fr/
3. Inside Fashion
Stylists or models, designers or journalists, buyers or press secretaries… This book compiles a range of interviews with women from the fashion world, explaining how they got where they are today. You will find out about their fashion and interior design favourites, and their favourite places to relax or take in some culture. An essential book which every self-respecting fashionista should buy right away! €28.50, La Martinière Publications.
4. Healthy Juliette
A healthy body and a healthy mind is the slogan of Juliette, a young lady from Lille who is followed by over 75,000 people on Instagram. On her account Healthy Juliette , she shares her life with you, featuring sport, healthy eating and travel. This account is brimming with great ideas to help you get or stick to a healthy lifestyle, to ensure your body and hair stay in perfect health.
5. Chez Simone
What's the key to happiness according to Chez Simone? Eating well, keeping active and leading a healthy lifestyle. In this Parisian apartment, which is completely dedicated to wellbeing, you can read Paulo Coelho, listen to music and treat yourself to some healthy dishes. You can even let off steam by taking boxing, running, dance or yoga classes. The ideal place to recharge your batteries for a few hours before facing winter unfazed. Head to 140, rue de Rivoli 75001 Paris or visit the website https://www.chezsimone.fr
This article inspired you?
Take action and find your salon