Seen on the catwalk: the faux bob by Dior
This season, illusion hairstyles are still extremely popular! In fact, during the Spring-Summer 2016 Paris Fashion Week, the Christian Dior models all sported a faux bob. You can also learn how to create this look, for an on trend hairstyle which you can wear on your next evening out.
Step 1: prepare your hair
First of all, your hair must be perfectly clean. Wash it thoroughly with Moisture and Lightness shampoo to boost its shine, whilst preserving its vitality. Then, wring out using a towel, spray on Absolute Shine Leave-In thermo-active treatment from the Keratin Therapy range. Using your straighteners, straighten your hair strand by strand.
Step 2: form a ponytail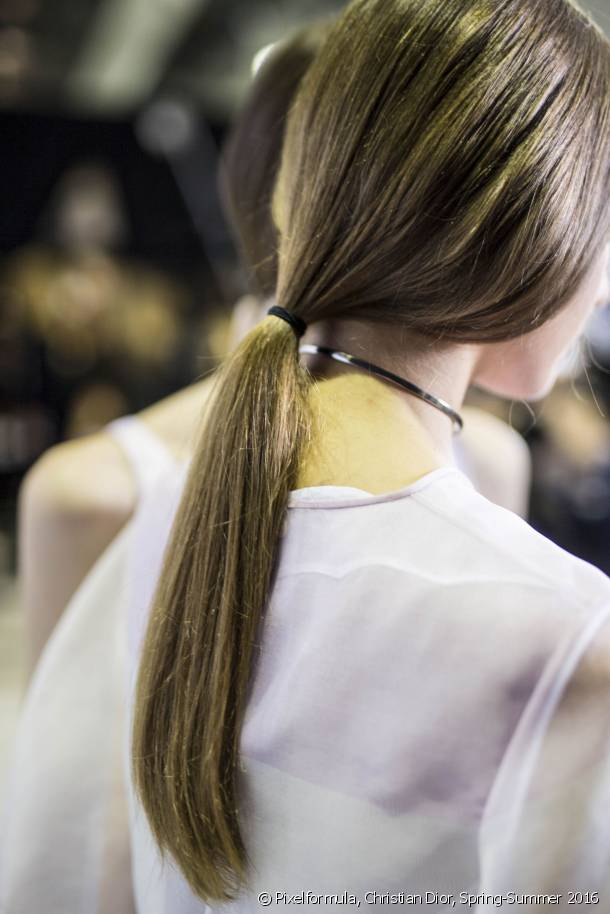 Mark out a clear middle parting using a fine comb. Then, brush your hair and gather it at the nape of your neck. Finally, tie it up into a low ponytail with a thin hair tie. Above all, do not create a tight ponytail… On the contrary, consider loosening it by lightly pulling on your hair.
Step 3: create your faux bob
To achieve a look identical to the one seen on the catwalk, you must wear a choker necklace. Gold, beaded, costume jewellery, thick or thin… Select one to suit your taste: it must correspond to your style so you feel completely at ease. To create your faux bob , all you need to do is tuck your ponytail underneath your accessory. Then adjust the volume of your hair around your face by pulling on your locks. To finish, fix it all with hairspray.
This article inspired you?
Take action and find your salon
The essentials

of the season