Men: get the crew cut
Want to cut off all your hair? Good news, the crew cut is a must-have look for winter 2017. Trends, tips, styling ideas… Here's everything you should know.
What is a crew cut exactly?
It consists of leaving less than a centimetre of hair on your head. The result: the ears, nape of the neck and face are free of any hair. At Jean Louis David, clippers are used to create this haircut by positioning the hair clipper comb guide from 3 to 5 millimetres away from the roots, depending on the desired result. This styling tool is the best way of getting clean lines and a structured cut.
3 reasons to fall in love with the crew cut
An on-trend look
Very short hair is highly on-trend for 2017. This look was spotted in particular on the catwalk at the Givenchy Fall-Winter 2016-2017 fashion show during Paris Fashion Week. Furthermore, actor Louis Garrel, known for his role in the film My King, also succumbed to this hair phenomenon this month. It's easy to see why as this haircut draws attention to your eyes, keeps the hair out of your face and it suits all styles. With this haircut, you can rock a whole range of different looks from preppy to streetwear, bad boy, stylish, sophisticated and mysterious. It all depends on the outfit you couple it with.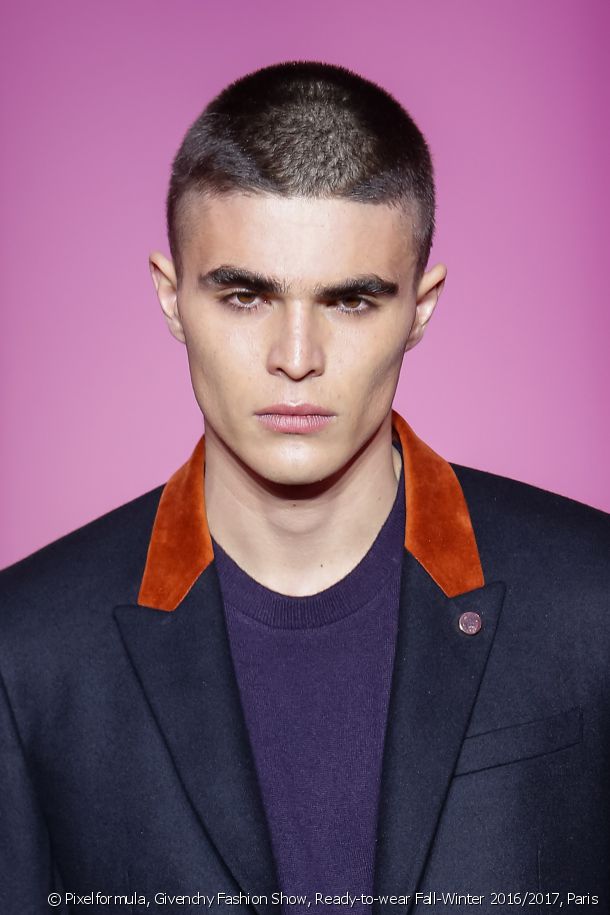 A practical haircut
Once you have this haircut, it makes your life easier. It requires little upkeep and can be styled extremely quickly. Say goodbye to styling gels or other fixing products… When you wake up your hair is already styled! Plus, it allows you to control the volume of thick hair, especially if it is curly or frizzy.
A "transitional" haircut
This haircut also allows you to conceal hair which is thinning, going patchy or starting to go bald. As there isn't much length to this cut, hair loss is much less visible than it would be on a mid-length to long style.
How can I rock this very short hair cut?
As your hair is lacking in length, your styling choices are relatively limited. However, you have several solutions to help you personalise your haircut. Opt for a slightly layered look by shaving the sides and the back of the head shorter. Or conversely, go for an even cut. Shape the contours in a geometrical way, or let your hair growth come through as it is, to get a more natural look. Finally, feel free to try out various on-trend accessories, such as a beanie, a baseball cap or a classic hat (a panama, fedora, beret, etc.). Enough options to change your style on a daily basis.
This article inspired you?
Take action and find your salon