3 quick and easy to create chignon styles
Available in endless forms, the chignon is a highly practical tied-up style which you can vary on a daily basis. Discover 3 on trend versions which will save the day when you don't have much time to style your hair.
The conventional high bun
This high bun has a highly sophisticated finish. To create it, gather all of your hair on top of your head before tying it up into a high ponytail. Consider flattening down your hair well using a brush. It is now time to use your donut, an essential accessory to achieve the desired result.
Slide your ponytail inside the donut and place the accessory at the base of your tied-up style. Then let your hair fall into a topknot so it fully covers your donut. Create your chignon by wrapping your hair around it and fixing it with as many hairpins as you require. To finish, apply hairspray for maximum hold.
The snail shell chignon
This hairstyle will give a definite bohemian touch to your look, whatever it may be. Firstly, tie up your hair into a medium-high ponytail, using a fine, clear elasticated hair tie. Then twist your hair to the tips and wrap it around itself. Create your chignon as if you were forming a snail shell. Hold it in place with hairpins and fix the whole look with hairspray.
Just like the image of our model below, feel free to personalize your tied-up style with an on trend accessory.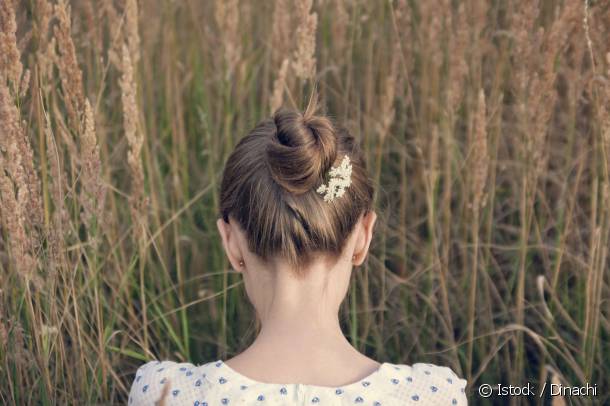 The side-swept chignon
This combination will add a sophisticated retro touch to your look. If your hair is curly or wavy, consider straightening it prior to styling. Firstly, separate a front piece of hair on the side. Gather your hair on top of your head and tie it up into a ponytail. Tie up your hair to create a relaxed style bun. Finally, apply Fix Spray for a hairstyle that won't move for hours.
This article inspired you?
Take action and find your salon
The essentials

of the season