New Year 2017: three party chignons
If you are tired of creating the same old hairstyles every New Year's Eve, it is time for a change. The chignon, a sophisticated safe bet hairstyle, is the perfect option for a party. Here are three ideas for giving it a twist.
The stylish chignon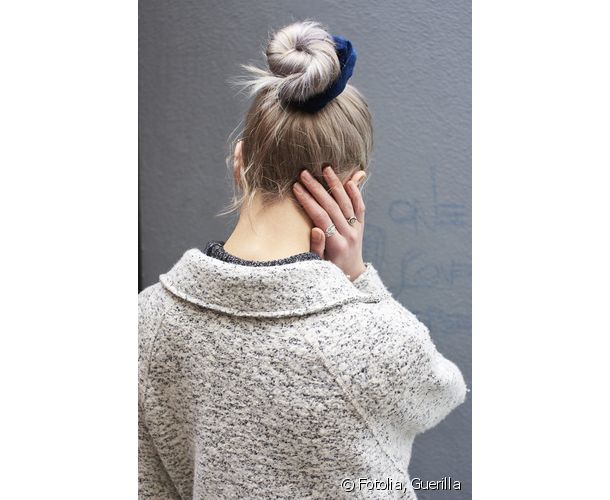 This is a simple, tidy hairstyle which you can create with your eyes shut! All you need is a coloured scrunchie to give it a stylish twist.
The tutorial. Start with a high ponytail. Wrap the ponytail around itself to form a coiled chignon and hold it in place using crocodile clips (flat clips which hold your locks in place with their notched edge). Tie a velvet scrunchie around the chignon, or a pearl necklace to add a sophisticated touch to the hairstyle.
Wear this hairstyle if you have straight, curly or thick hair, among others. If your hair is finer, use a foam donut to get more volume.
The couture chignon
This highly elegant hairstyle requires slightly more technical skill. Kit yourself out with a mirror, ten or so hairpins, extra strong hairspray… And some patience.
The tutorial. Start by straightening your hair with straighteners , then apply hairspray all over so that your hair holds together. Tie up your locks into a high tight ponytail. Firmly twist the ponytail and then gently loosen it until you get a loose roll like in the photo. Turn the roll around the hairband until the shape of the bun is more oval than round. Then slide some wavy hairgrips inside the chignon to hold it in place against your head.
Wear this hairstyle if you are used to this level of styling difficulty and if you wish to create an ultra-chic look.
The romantic chignon
This article inspired you?
Take action and find your salon
The essentials

of the season