Coloured hair trends... multi-coloured, brightly coloured and fluorescent shades
For several seasons, social networks have been flooded with photos of young women with brightly coloured or multi-coloured hair. Is this a good or a bad idea? We take a look at this phenomenon in detail.
Brightly coloured and fluorescent hair
To follow the trend, hair is coloured in an unusual shade (blue, green, pink…). Hair colouring can be one single colour or partially coloured with streaks or highlights. If you wish to adopt these kinds of techniques, opt for a colour which is closer to your base colour, thereby avoiding repetitive bleaching which systematically damages the hair fibre.
Furthermore, always opt for temporary colouring which gradually fades out as you wash your hair. Or, if you are looking for the best solution to minimise any risks concerning your hair's vitality, don't dye your hair at all! Opt for hair chalks or coloured extensions.
Multi-coloured hair
Galaxy Hair, Rainbow Hair, Pixel Hair… It's simple: new hair colouring techniques like these appear every season! These techniques consist of colouring the hair by combining a multitude of colours. Sufficient to give you an immediate bold and distinct look! Just like fluorescent or brightly coloured hair colouring techniques, always opt for those which are non-permanent. Maintain your hair with regular treatment by adopting targeted products such as those from the Color Therapy regime. Your hair's health depends on it!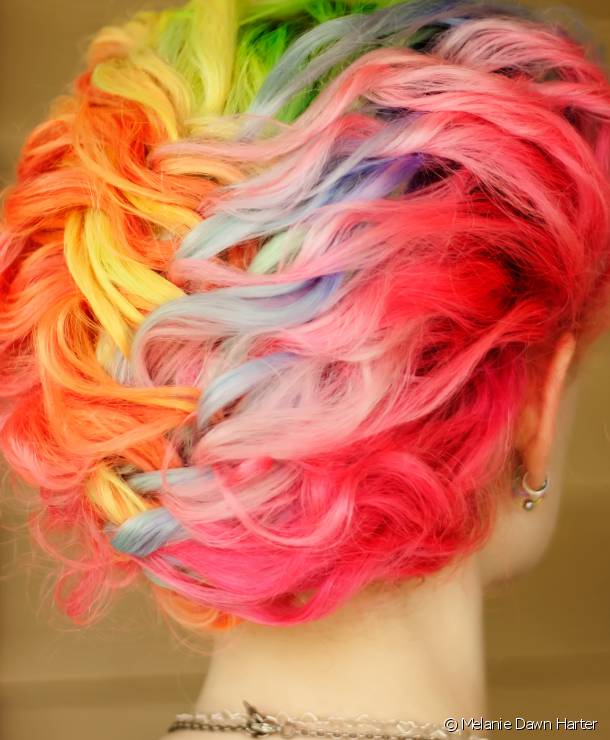 Our advice
In the Jean Louis David salons, none of the hairdressers will colour your hair multi-coloured or put in blue, green or yellow streaks. You have to choose tones which already exist in your natural colour. If you are determined to take the plunge, don't rush into it. Take time to consider the effects such a hair colouring technique can have on your hair.
This article inspired you?
Take action and find your salon