Jean Louis David Hair Coloring: take a closer look at Alternative Light
With the passing seasons, Jean Louis David continues to innovate by creating new coloring techniques. For Autumn-Winter 2015/2016, discover Alternative Light. You are at risk of being seduced by its daring finish which is full of character.
The coloring technique
Alternative Light plays with light and shade. This coloring technique is very unusual: it is characterized by clear demarcations between the lightened and most dark areas. Furthermore, the face is always framed by two lighter strands so becomes illuminated. Once adopted, Alternative Light perfectly emphasizes hairstyles, giving them both relief and depth. This coloring also gives maximum personality to your appearance for a distinct, trendy or rock look.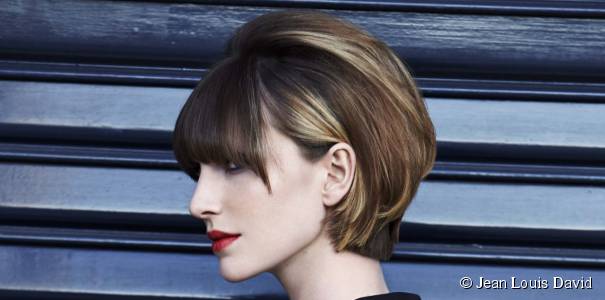 Who is it for?
This technique particularly suits straight hair and those who are fans of blow-dry styling. Why? The contrasts created by your hairdresser are shown off in a perfect way when your hair is straight. For the same reasons, it adapts to all haircuts but is recommended for mid-length to long hair. Finally, dare to choose Alternative Light if you wish to boost your style whilst opting for originality as well as boldness.
How do I maintain my color?
Pamper your colored hair with products from the Color Therapy range. They will revive your hair's shine and preserve its vitality for days. To do this, wash your hair two to three times a week with Color Intense shampoo. Once a week, apply the Deep Color mask and let it sink in for a few minutes on damp hair, then rinse thoroughly. Finally, visit your salon every three months for any touch-ups on your hair. The good news? Since Alternative Light is a highlighting technique, you will not have an obvious "roots effect"!
This article inspired you?
Take action and find your salon