Barbara, a bubbly designer of green objects
Every month, we introduce you to a woman or man whose character and hair inspire us. Today, Barbara has been chosen to take part and she tells us all about her silver locks.
Paris, Place de la République. Barbara met us in front of her flat, at Poutch, a coffee shop where she exhibits her creations. This thirty-year-old Parisian designer of plant compositions has always worked in the fashion world. Passionate about fabrics, she is also a fan of antiques and bric-a-brac shops. "I expect objects to tell a story." she explains.
A curious and committed woman
Since 2016, Barbara has been giving a second life to these neglected objects. With The Blond Cactus, her online concept store, she combines her second-hand treasures with cacti or succulent plants. "The idea comes from the desire to decorate interiors with flowers. Without spending time there".
As a result, Barbara shares her daily life between a career in fashion, her plant creations and her blog A la Française, which she co-founded with a friend. A site committed and dedicated to Made in France products and ethical, responsible consumption. A refreshing world interspersed with her favourite items. As for Barbara, she even inspires us with her hair colour. A very subtle grey, it is a real signature of her quirky character.
Your grey hair is incredible, is it your natural colour?
No, it's coloured! I have naturally chestnut brown hair but I wanted a change. I couldn't handle styling my long hair anymore (it was chest-length) and I wanted something new. As a result, I chose a clean cut just above shoulder length. And as it wasn't all that radical, I fell in love with grey hair a month later.
Why grey?
I fell in love with it after seeing the white-haired models at the Chanel fashion show last year. Initially, I was undecided between grey and ice blond and when it came to colouring (in the salon), we decided on a platinum blond which I really loved and kept for two months…before opting for grey which is easier to maintain.
Did you find the right shade for you straight away?
Initially my locks were entirely grey and when the roots grew out, rather than bleaching it again, my hairdresser and I decided to make it darker, adding in an ombré effect with my chestnut brown base colour.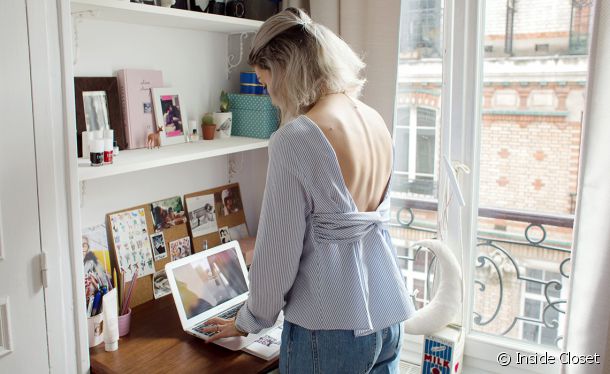 How do you maintain your colour?
Usually, I like my regime to be super quick, but as soon as I bleached my hair, I had to use hair masks. When I'm short on time, I sleep with one in and when I wake up I use a shampoo and conditioner specifically formulated for grey hair.
Before grey hair, did you used to frequently colour your hair?
Yes, I started very early with natural products to add shine to my light brown hair which often tended to look dull. Before having grey hair, I tried out blond, mahogany, brunette…
Without any disasters?
No, one of which I particularly remember. The day when I fell asleep in the bath when applying a mahogany hair colouring. The result was very…red!
What is your favourite hairstyle?
I found it hard to pick one as I don't like styling my hair. As a result, I had to find something easy and effective. I leave my hair to dry naturally, I add a small amount of serum and I use curling tongs to obtain a wavy effect. In 5 minutes, all my strands are curly. I work with my fingers to obtain a messy-styled effect. Easy!
Would you rather have volume or slicked back hair?
Both. I like having volume just as much as slicked back hair in a low ponytail with a middle parting.
And do you use accessories?
No hair slides or bows, but rather something to cover my head. I have always worn hats, beanies headbands, or bandanas in a 50s, rockabilly style. Currently I'm going through a turban phase.
Finally, where do you get inspiration for your hairstyles?
Instagram for inspiration and Pinterest to develop ideas and to create mood boards.
This article inspired you?
Take action and find your salon