Streetstyle: which hairstyle for rushed mornings?
This morning, you've barely 5 minutes to style your hair… but it's out of the question going out with an unkempt look! Just like our Streetstyle model of the day, opt for a low ponytail which is both on trend, easy and ultra-quick to create. Let us explain all.
A simple and sophisticated hairstyle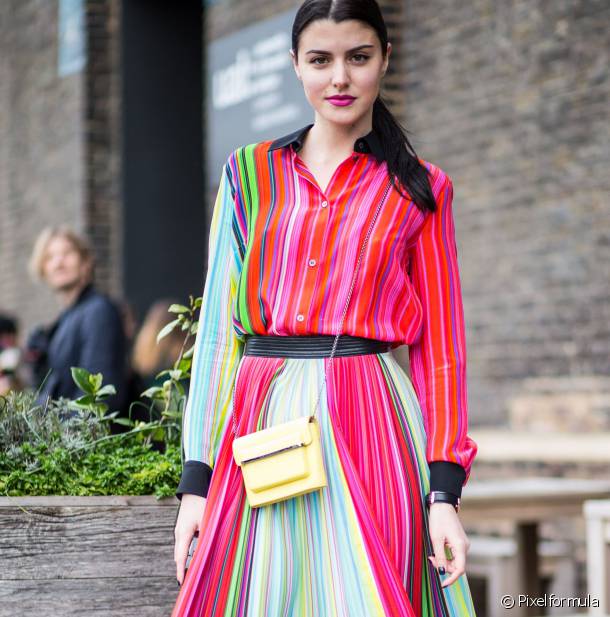 Today, our Streetstyle model has chosen to tie up her long thick hair. She has gone for a low ponytail , which is structured by a clear middle parting. Proud of her XXL hair, she has decided to place it on one shoulder. The result: she has a side-swept hairstyle which reinforces her fashionable look. As for hair colour, she has naturally black, luminous and shiny hair… Proof that she perfectly maintains it!
To create the same tied-up hairstyle, work with clean and perfectly untangled hair . Mark out a middle parting using a fine comb. Then gather your hair at the nape of your neck and tie it up using a transparent hair tie. To finish, apply Fix Spray for maximum hold throughout the day. You'll see, you'll have finished in 5 minutes flat!
An outfit full of colour
Our Streetstyle model really blows us away with her multi-coloured outfit! It is made up of a fitted shirt which she has tucked into her high-waisted pleated skirt. To balance out this explosion of colour, she has gone for discreet and simple accessories such as her black watch or her mini shoulder bag. Furthermore, this young lady has a decidedly eccentric look about her. As a result, she has finished off her look with a pair of pointed leopard print ankle boots which elongate her already slender figure.
This article inspired you?
Take action and find your salon
The essentials

of the season