Oriental wedding: 3 chignons for the big day
Do you want a chignon which is a real knockout on the big day? Modern, sophisticated or romantic: discover these three looks which are perfect for an oriental wedding.
The floaty banana chignon for a modern look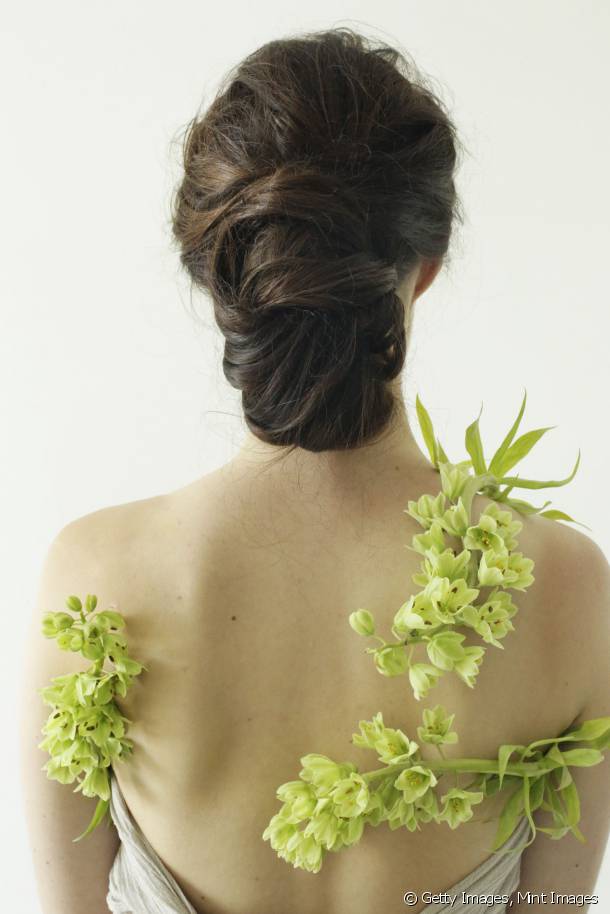 The banana bun is a safe bet for a wedding hairstyle (and a good idea if you have long hair ). To add a twist to this great classic, go for a floaty version. Start by detangling your hair and lifting it up at the roots: a great little tip which will add volume to your hairstyle and enhance your profile. Then, tie up your hair into a ponytail (in the centre of your head).
To style your bun, you must create a floaty effect by twisting your strands one by one. Our tip: vary their length and style them in the same direction (as seen here, from right to left). Contrary to a classic version, this bun gives the impression it could come undone at any moment. Rest assured, this isn't the case! To achieve this effect of hair tumbling down the nape of your neck, leave a bit of length before lifting and twisting your strands. Simply fix them using flat hairpins and finish it all off by applying hairspray.
The bohemian sophisticated bride chignon
Do you want a romantic hairstyle? Opt for a chignon embellished with a few jewels (best for long or mid-length hair). To start, it's quite simple: you just need to recreate the side chignon technique .
Start by tying up your hair into a low ponytail (with or without a side parting). Work strand by strand, twist them, then backcomb them using your fingers and fix using hairpins (choose flat ones to avoid creating marks). Although hair slides should be tone on tone to blend into your hair, opt for rhinestone or pearl studded slides as a finishing touch. We also love retro headbands which are perfect for a bohemian style.
The romantic chignon with a slight bouffant effect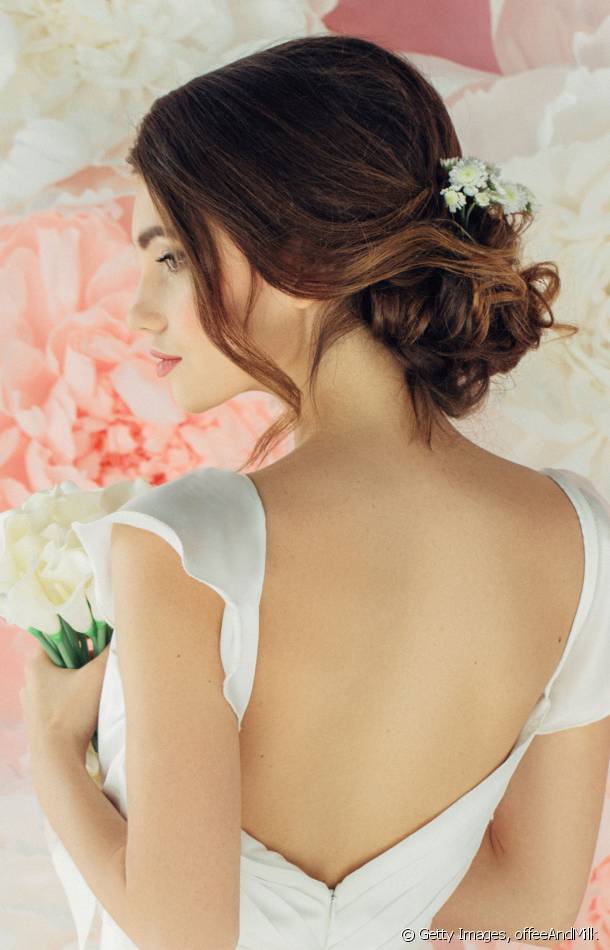 Does your hair have pretty sun-kissed highlights? Gather your hair into a romantic chignon to make them stand out. Although this hairstyle suits straight hair, we advise you add in a few waves to give body to the hairstyle. Therefore, start by creating a few curls using your curling tongs. Gather your hair into a messy-styled half-ponytail and fix it using transparent hair slides or an elasticated hair tie.
Our added finishing touch? The half-up half-down style allows you to work with a slight bouffant effect. For a softer finish, feel free to leave a few strands lose to frame your face. To create your chignon, it's ultra-simple: twist the strands one by one and fix them where the half-ponytail is tied. Finally, apply Shine Spray for a glossy finish.
To go one step further, take a look at our special wedding chignon article which has tips, styles and professional advice… We tell you everything so you can get the perfect hairstyle for your big day.
This article inspired you?
Take action and find your salon
The essentials

of the season