Mademoiselle D, made in Paris
Coming up to the brand's third year, Diane, the founder of Mademoiselle D, a clothing line almost exclusively sold on the web, tells us all about how it started out, how the collections are designed and how she manages it all.
We head to Le So, a restaurant recommended by Diane in the Sentier District in Paris. Wicker chairs and mirrors, cerulean walls and subdued lighting… A cosy, speakeasy kind of place.
Mademoiselle D, Diane's clothing brand, is soon to celebrate its third birthday. A dream which became a reality for this self-taught fabric lover who has been sewing since she was 14 years old.
Tell us how Mademoiselle D. came to be
Three years ago, I started sewing again because I wasn't happy with what was on offer in the shops. Then I continued to create designs for family and friends which I posted on social networks. Very quickly, I received messages asking me to reproduce certain pieces, so my first orders were in! Then, things snowballed. The first nine months were quite difficult as I was busy with pattern making, sewing, sending out orders, customer service… My weeks were pretty hectic but I was lucky to have the support of my husband! I now have a designer, seamstresses, a photographer and a friend in charge of customer service around to help me.
Made in Paris is a tall order…
It happened quite naturally. When after a few months, I started being snowed under with orders, I had to find a solution to fulfil them: a workshop which wasn't too far away. This means that I make checks at all of the production stages, and I work with artisans who have similar tastes to me and the same passion for creating pieces with fine trimmings.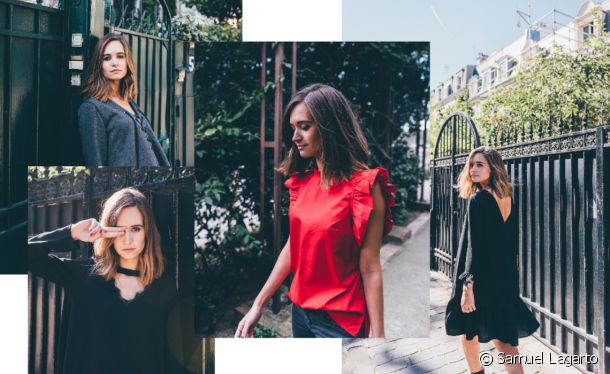 How quickly do you create pieces?
I put forward a new collection every season and bring out new pieces every fortnight. More often than not they're clothing pieces which are sophisticated and fashionable (blouses, dresses, etc.), but it could also be shoes or handbags. They are all limited editions, so it is very rare to come across two people wearing the same outfit.
You have a strong presence on Instagram with 27K followers…
It all started with Instagram! Mademoiselle D is mainly distributed online, so inevitably my customers are online. Due to the limited number of pieces, you must be online as soon as things go on sale to get the piece you want! For me, Instagram is word of mouth 2.0. It's a direct connection with the public to make announcements about new pieces and events or to gather opinions on my latest creations. I also use Facebook to make announcements about the brand, and Snapchat allows me to reveal what goes on behind the scenes.
This article inspired you?
Take action and find your salon
The essentials

of the season