Combine a felt hat with a fringe: Streetstyle
Our Streetstyle model of the day passes with flying colours and wins hands down when it comes to looking stylish in a felt hat. We break down her modern and feminine look which is bound to inspire you!
An elaborate hairstyle for a sophisticated look
Our Streetstyle model has thick, straight, dark brown hair. She has perfectly enhanced it with her mid-length slightly layered haircut. To create movement, she has decided to curl her hair using straighteners. The waves created are soft, light and floaty at the same time. Also, our Streetstyle model has a curtain fringe, which stops at her eyebrows and draws attention to her pretty hazel coloured eyes.
As for hair colouring, she has made a bold choice by opting for a distinct tie-dye effect. In fact, she has left her roots and the lengths of her hair brown, whereas the tips are coloured dark blonde. Finally, our Streetstyle model has chosen a felt hat placed simply on her head, allowing her fringe to stick out. This accessory choice gives her a masculine-feminine style to die for!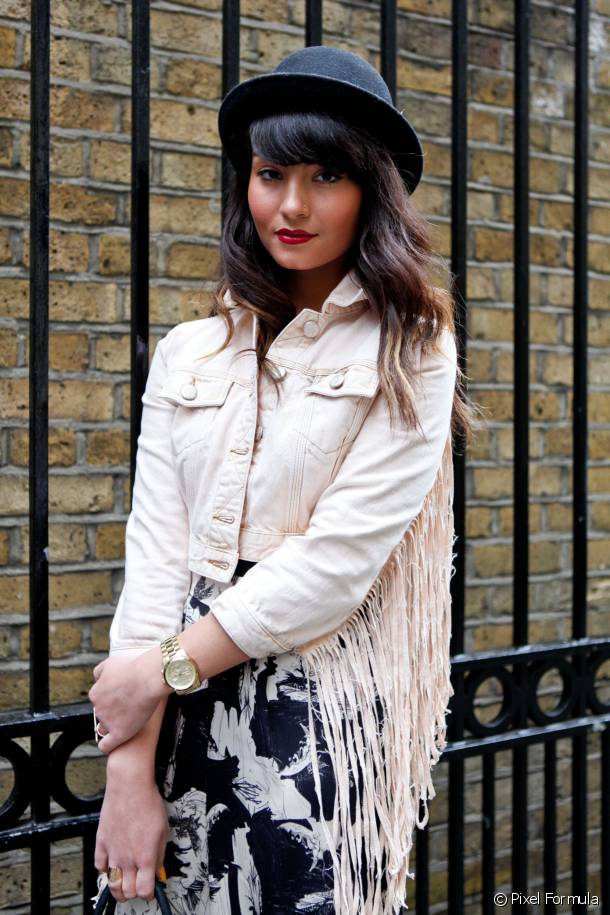 A bohemian outfit for maximum comfort
Our Streetstyle model is wearing a floaty, printed 7/8 trouser playsuit. To keep warm, she has combined it with a pale pink denim jacket. The extremely fashionable detail? Fringing, which hangs from the sleeves and is a must-have this season. For accessories, she has opted for simplicity to balance out her look. In fact, she is just wearing a gold watch… and let's not forget her black strappy wedge sandals which elongate her figure, by adding a few centimetres to her height.
This article inspired you?
Take action and find your salon
The essentials

of the season