3 on trend fringes in 2016
Whether it's a conventional curtain fringe, a neo-punk short fringe or an indistinct fringe with waves, bangs are one of the must-have looks of 2016. A great hairstyle classic, the fringe is THE ultimate feature which will boost a haircut. Find out which three looks will make a mark on 2016.
1. The curtain fringe to structure thick hair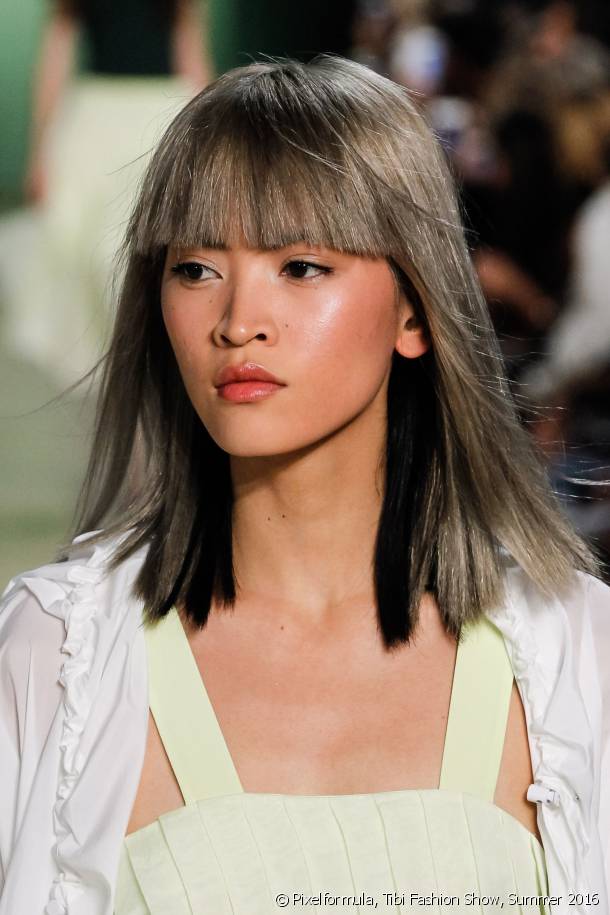 A must-have look from the Autumn-Winter 2015 fashion shows in New York, the curtain fringe is constantly seen on the catwalk. This season, we have spotted it notably at the Tibi, Vera Wang and Emporio Armani fashion shows. Often paired with thick straight hair, it stops at the eyebrows: the best way to draw attention to the eyes.
Who is it for? Whether you are a brunette, blond or a redhead, this feature will boost your long bob or XXL hair. If you have fallen in love with grey hair , dare to try this fringe too: it's the best way to modernise your haircut.
To keep your fringe clear-cut, meticulously maintain it. Only rely on your hairdresser to do this. Not only do you risk not cutting your fringe straight, you also risk having split ends by using scissors which aren't sharp enough. Therefore, if you have a fringe which is too long, wait for a few days, you can be clever in the way that you style it . Our tip for an excellent finish? Apply hairspray to a fine comb when styling. The result: maximum hold and a flawless finish.
2. The short fringe for straight hair and a thin face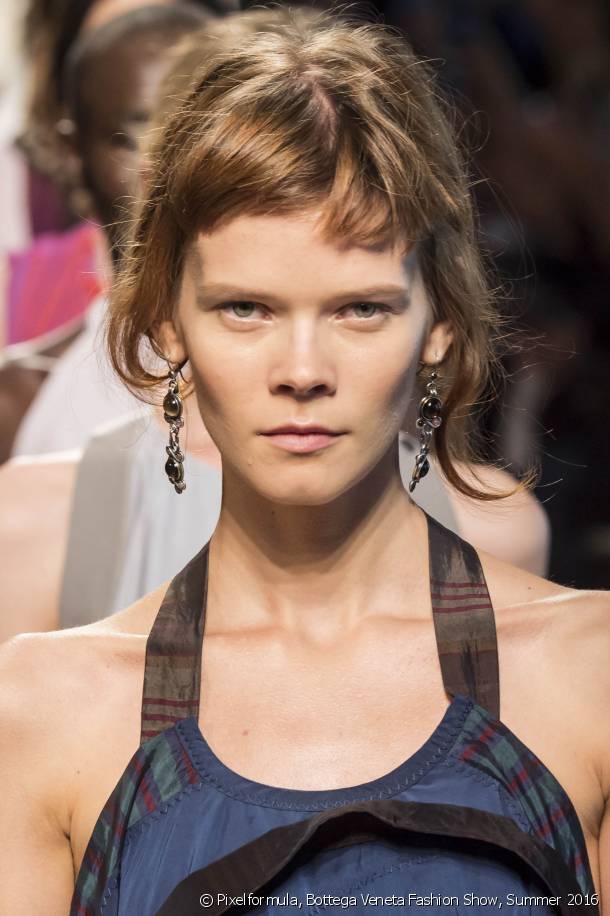 Considered as one of the on trend hairstyles from Autumn-Winter 2012, the short fringe has made a notable comeback onto the Spring-Summer 2016 catwalks. An indistinct version, spotted at the Bottega Veneta fashion show, goes really well with a low chignon and a few strands framing the face: 50% bohemian, 50% neo-punk. A conventional version, seen at the Fendi or Blumarine fashion shows, adds character to a classic bob or a mid-length cut. It is a great idea if you wish to create a very graphic result.
How can I adopt it? The short fringe is highly recommended for thin faces and straight hair. Is your hair wavy, curly or does it tend to go frizzy ? Favour a fringe more adapted to the nature of your hair: it will be even easier to maintain. Do you have short hair? Be careful to avoid the 'monk look' if you have a boyish haircut! Wait a short while for your hair to grow before trying this look out.
3. The indistinct fringe for wavy hair
Do you wish to add a fringe to your wavy or curly hair? The Sacai, Bottega Veneta or even the Givenchy fashion shows prove to us that it is possible! The advantage of a fringe on curly hair: it offers a more indistinct and natural result than with straight hair. Not to mention that it is one of those fringes which is easy to style and maintain . A strong argument for those who are always in a rush!
The perfect haircut? The advantage of the fringed bob is that it adapts to all textures/natures of hair. All you need do is work your hair with your fingers to create a messy-styled effect without damaging the waves. As your wavy hair is often thicker and drier than straight hair, favour hydrating masks- essential for making your hair shine! Apply them for 10 minutes after each time you shampoo your hair.
And if you wish to add a twist to your fringe from time to time, find out how to combine it with a braided crown : for a romantic and relaxed hairstyle!
This article inspired you?
Take action and find your salon
The essentials

of the season